We are experiencing high call volumes:
Use your account on the Mayo Clinic app or patient portal to check symptoms, get care recommendations and make an appointment.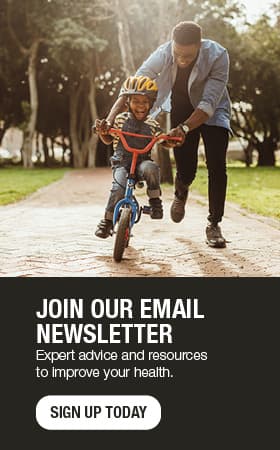 By Mayo Clinic Health System staff
Exercise isn't the only way to a healthier heart.
"There are a number of habits that can help," Melanie DeVries, a Family Medicine nurse practitioner at Mayo Clinic Health System in Austin, Minnesota, says. "Lifestyle factors play a big role in preventing or managing heart disease."
Melanie offers these 5 tips to keep the (heart) beat:
1. Veg out.
Adding vegetables and fruits to your diet boosts your heart health. Aim for five servings each day.
2. Volunteer.
Sharing your time and talents is good for your heart. Look for opportunities to get involved at your neighborhood school, place of worship or community.
3. Give thanks.
Gratitude can boost your immunity and help you sleep. Keep a gratitude journal to help the act of regularly giving thanks become second nature.
4. Stress less.
Exercising and meditation can help you manage stress. So can setting boundaries. You can't do everything. Learn to say 'no' occasionally.
5. Sleep more.
Make sleep a priority. Aim for eight hours a night. Exercising during the day and avoiding heavy meals and electronics too close to bedtime may help you fall — and stay — asleep.
Read more about ways to keep your heart healthy:
---
For the safety of our patients, staff and visitors, Mayo Clinic has strict masking policies in place. Anyone shown without a mask was either recorded prior to COVID-19 or recorded in a non-patient care area where social distancing and other safety protocols were followed.
Topics in this Post