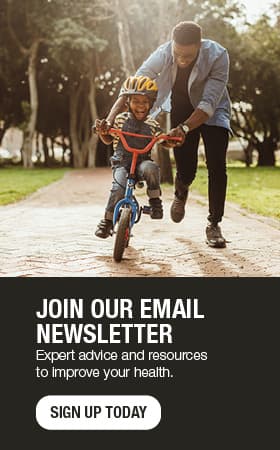 No matter your age or skill level, it's never too late to start weight training
Years ago, weight lifting was thought to be reserved solely for the likes of body builders and athletes. However, in recent years, there has been significant research on the medical benefits of strength training for people of all ages and abilities. In fact, one of the best benefits of exercise, when done properly, is that people feel better overall.
Weight lifting has been shown to help with the following:
Heart disease

Blood pressure

Diabetes

Cancer

Brain health

Bone density

Cholesterol

Self-confidence
Who can benefit from strength training?
Under the right conditions, strength training/weight lifting can benefit anyone, including the following groups:
Kids (with supervision)
Young adults
Women and men
Older Adults — even into their 80s and 90s
Athletes and non-athletes
Patients with various diseases
Those who suffer from chronic pain or who have had an injury
Which strength training program is best for you?
Here are some key points to remember when considering a proper strength training program:
Start with light to moderate weights the first couple of sessions. Starting light can prevent muscle soreness and lessen the chance of injury.
Gradually increasing the weight amount. Over a period of two to four weeks, increase the amount of weight. Ten to 15 reps should become difficult as muscles tire and fatigue.
If you have pain, stop doing that exercise. Proper strength training should reduce pain, not cause it. If done correctly, it should also help your bones, tendons, ligaments and muscles all become stronger.
When lifting weights, do not use momentum. Most weight lifting injuries occur from swinging the weights, improper technique and/or lifting too heavy an amount of weight. Take about two seconds to lift the weight and four or more seconds to lower the weight. Training slower activates more muscle fibers in the targeted muscle, which will increase the benefits of strength training in the end.
Stress and rest. Work your muscles to fatigue on each exercise and then rest them at least 48 hours. Lift weights two to three days a week for each muscle group.
Use a variety of exercises. A good program should include eight to 12 different exercises. These should target the major muscles of the legs, back, chest, abdomen, arms and shoulders.
At least one set on each exercise. Most individuals can get the results they want doing one set of 10 to 15 reps. In the 1970s and 1980s, researchers recommended at least two to three sets, and many people today still recommend this. However, a significant amount of recent research states one set, done properly, can be just as effective as multiple sets. Multi-sets are okay if you have lots of free time and enjoy spending time in the gym.
Breathe. Remember to always maintain your breathing while you lift.
Free weights/hand weights, machines, body weight exercises or bands? They all work if used properly. Most people will get the best results and be able to do a well-rounded program using free weights or machines.
If you need help, contact a certified professional. The American College of Sports Medicine (ACSM) has some of the best certifications. Your professional should also have at least a Bachelor of Science degree. Beware, as some personal trainer certifications don't require any college education.
Chip Gay is a clinical exercise physiologist at Mayo Clinic Health System in Mankato.