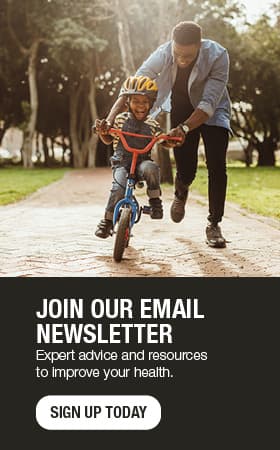 Coping with holiday stress — Keeping our expectations realistic
Topics in this Post
The holiday season is just weeks away. For many of us, the holiday season brings hopes of beautiful times spent with family, friends and loved ones. We dream of roasting chestnuts on an open fire, a white Christmas just like the ones we used to know and rockin' around the Christmas tree.
These moments are among the most cherished in our lives — so why can they also be among the most stressful times?
Whenever something is important to us, we pay attention, we become involved and we want to participate. This also means that we carry expectations influenced by our memories, our desires and our environment. The smell of grandma's home cooking at Thanksgiving, our favorite Christmas cookies, and the sights and sounds of the season in our homes, in our communities and portrayed in the media, become the mental representations by which we measure our happiness and satisfaction. We direct all of our energy toward creating the perfect experience, and often, events out of our control — finances, travel plans, past and present relationships, health, current events — can, and frequently do, interfere with our vision of the perfect holiday season, which can lead us to experience stress and unhappiness.
The key to coping is setting realistic expectations.
Finances are a big stress during the holidays. Take a few moments to write down your anticipated expenses, a budget for gifts, holiday travel and special holiday traditions. Set aside a bit of money for those unforeseen expenses, and stick to your budget. Remember that overspending now invariably leads to regret and difficulty later.
Holiday travel often is complicated. Families today are geographically separated more than ever. Speak with your loved ones about what you and your family can realistically do and still enjoy the holiday. The pressure of feeling that you have to be in two, or sometimes even three, places at once is enough to take the fun out of any event.
Also, we are often aware of the expectations of others from past years. It is important to clarify what others' expectations are and to state your own. The holidays cannot always be what we remember from the past. People change, and as a result, our holidays change. Sometimes, compromising to have a gathering either just before or after the actual holiday is necessary. Remember that it is the time spent together that is most important and maybe more so than the date on the calendar.
When facing difficult past or present relationships, we can focus on modeling graciousness. We can only take responsibility for ourselves. Our friends, family and loved ones also have this responsibility. We do not have control over whether they make the choice we want. This is where graciousness comes in. We need to choose to put on our best manners and make time to discuss difficult topics another day.
Finally, as much as we would like the holidays to be devoid of sadness, anxiety and other negative emotions, the reality is that life is going on around us all the time. We have emotions to inform us about what we need to pay attention to. Having a realistic expectation that the holidays won't banish our negative reactions or emotions can help us cope with the stressors that arise and allow us to have an enjoyable time with those we love.
Topics in this Post