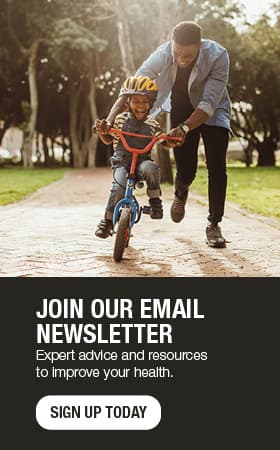 Wrap-around rehab reaps results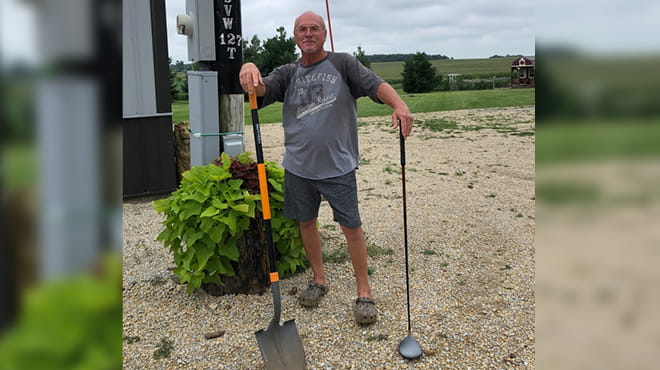 It was May 25, 2021. After Tom Lansing of Stewartville, Minnesota, mowed his mom's yard, the then 59-year-old decided it was a perfect late afternoon for a motorcycle ride. So he revved up his Harley Davidson Ultra Classic and pulled onto the country road in front of his house.
A little more than a mile later, going highway speed, Tom collided with a car that crossed into his path at an intersection. A nearby resident and former EMT was first on the scene and cared for Tom until the ambulance arrived. His long journey from repair to recovery was about to start.
It wasn't until about three weeks later that Tom was able to ask his sister what had happened. He learned the list of his injuries was impressive: 30 broken bones, including skull and facial fractures; a dislocated left hip; broken ribs; broken right femur; and a severely fractured left wrist and ankle, along with a traumatic head injury and injuries to his internal organs. He had a total of 10 surgeries.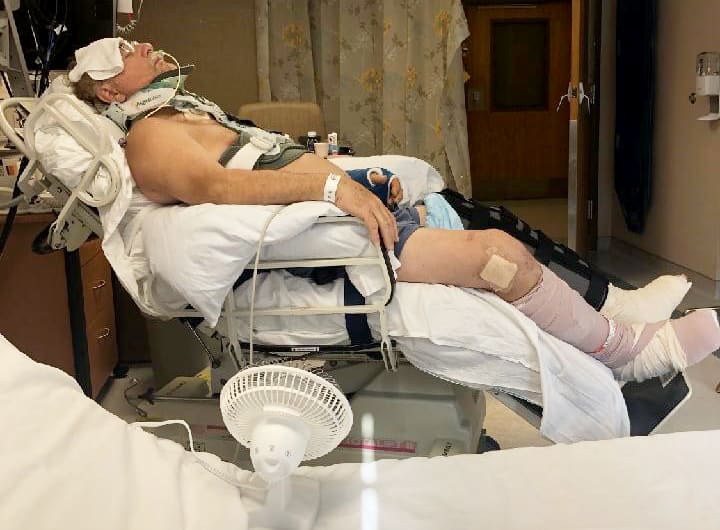 "I was in intensive care for 16 days, then three weeks in a regular hospital room," Tom says. "About a month after the accident, I asked where I was going to go to get better."
That "where" was the Mayo Post Acute Care unit at Mayo Clinic Health System in New Prague, Minnesota. Tom's needs were so extensive, they exceeded the capabilities of nursing homes closer to home. So although New Prague was nearly 100 miles away, it was the best option. He arrived at the post-acute care unit on July 2, 2021.
What came next was a lot of grit, hard work and determination on Tom's part and skilled, focused rehabilitation from his care team. The team provided physical therapy to help with healing and movement; occupational therapy for regaining daily living skills; speech therapy; mental health support to deal with mild depression, anxiety and PTSD; and chaplain services.
"He had some memory loss from the accident, multiple fractures, wasn't able to bear weight on his legs and was in a neck brace," says Kayla Wojciechowski, a licensed social worker in New Prague. "We took a collaborative approach to his care because his needs far exceeded one area of expertise. Mayo has a great model for working as a team. Without one team member, we're not as successful as we could be. It really is the best way to care for our patients and play a role in their recovery."
Once Tom got settled in, what he really wanted to do was put his feet on the ground after lying in bed for so long. After intensive physical therapy, two physical therapists helped him swing his legs off the bed, grab onto the walker and stand — while they stood right next to him.
"I almost crumpled to the ground. It felt like I weighed 800 pounds; I couldn't support my weight," he says. "That was the biggest eye opener for me, and I thought, 'I have some work to do.'"
And so his rehab began. Each day he worked on standing, regaining movement throughout his body and jump-starting his foggy brain and memory with games, pictures and other techniques. Toward the end of his stay, he and his therapist even visited a store where he bought 10 items — and then was quizzed about an hour later on what he bought. "I remembered all 10," he says. "I aced it!"
During the weeks of rehab, Tom also returned to Mayo Clinic for follow-up exams and surgeries. By Aug. 21, he was ready to be discharged. "I was still on crutches and doing physical therapy twice a week when I left," Tom says. "After just a couple of days at home, I got on the lawn mower on my own, and that's when I knew I could take care of myself."
Tom supplemented his formal physical therapy by dancing to his favorite music in his living room and working around the house and his hobby farm. A year to the date of his accident, he retired from his job as a detention deputy at the Olmsted County Work Release Facility.
But Tom still wasn't done with New Prague. In July 2022, he made a surprise visit to the Mayo Post Acute Care unit to thank everyone, including the desk staff, doctors, therapists, nurses and support staff who brought him meals and helped him shower. He admits it was an emotional day.
"Tom's rehab was extraordinary," Kayla says. "He came here totally dependent on staff and left using a just a walker."
"The things we take for granted mean more when you can't do them," Tom says.
Thanks to the wrap-around rehabilitation he received in New Prague, Tom is back doing ordinary things, like mowing the yard, working around his farm and playing golf, as well as the special things like getting back up on water skis. He says, "When I yelled, 'Hit it!' and lifted out of the water, I thought, 'A lot has changed from a year ago.'"