Posted By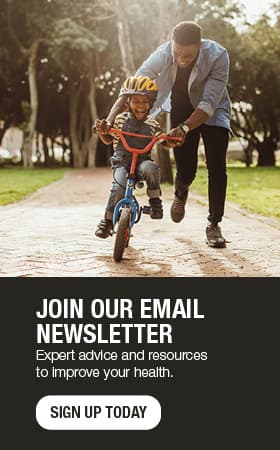 Is it an allergy or the common cold?
Did you know a sore throat or runny nose may be something other than a common cold? Taking a closer look at these and other symptoms can help you understand if it's a cold you're up against or allergies that may be affecting you.
ALLERGIES ARE A YEAR-ROUND AFFAIR
If you're allergic to pollens, you may feel an improvement with spring and summer allergy symptoms during colder winter months. However, if you suffer from indoor allergies, such as mold or dust mites, you may notice allergy symptoms are more pronounced during winter when you spend more time indoors. This is because your home's furnace sends dust, mold spores and insect particles into the air. When inhaled, these particles often cause allergy symptoms for someone who is allergic.
THE DIFFERENCE BETWEEN ALLERGIES AND THE COMMON COLD
Colds are due to viruses, which are contagious. They're often spread by someone who sneezes or coughs, or by hand shaking and other direct physical contact. After a couple weeks, your immune system fights off the infection and your symptoms usually resolve.
Allergies are due to an immune reaction to something in the environment. Often, this includes dust or pollen. This causes the body to release histamine, just as it would with a cold, which causes nasal congestion, sneezing and coughing. Allergies are not contagious.
OTHER DIFFERENCES TO CONSIDER
Consider these additional differences between a colds and allergies:
Colds tend to last anywhere from three to 14 days. Allergies last days to months.
Colds most often occur during winter months. Allergies occur any time of the year.
Cold symptoms take a few days to appear after an infection. Allergy symptoms can begin immediately after contact with triggers.
A cough is often present with a cold and sometimes with allergies.
Aches are sometimes present with a cold but never with allergies.
Fatigue is sometimes present with both colds and allergies.
Fever is rare with a cold and never with allergies.
Itchy, watery eyes are rare with a cold but often with allergies.
Sore throat frequently occurs with a cold and sometimes with allergies.
A runny, stuffy nose is commonly seen with both colds and allergies.
The most important difference is that colds usually don't last longer than 14 days.
COMMON INDOOR/WINTER ALLERGENS
Even the cleanest of homes can be a hotbed for indoor allergens. Some of the main culprits include:
Dust mites. These microscopic pests are the No.1 indoor allergen. They thrive in warm, humid environments, such as bedding, upholstered furniture and carpeting.
Indoor dust and mold. Dust and mold allergens can come from a humidifier causing more harm than good.
Animal dander. Despite what you may hear, there are no hypoallergenic breeds of dogs or cats. People are not allergic to an animal's hair — they're allergic to an allergen found in the saliva, dander (dead skin flakes) or urine of an animal with fur.
Cockroach droppings. Cockroaches are common pests whose droppings can cause environmental issues.
TIPS TO HELP REDUCE ALLERGENS IN YOUR HOME
There are a few suggestions you can try to help combat indoor allergens in your home:
Place dust mite cases on mattresses/pillows.
Vacuum carpets often, or replace carpet with hardwood floor, tile or linoleum.
Use a high-efficiency particulate air (HEPA) filter vacuum. These filters are rated at least 99.97 percent efficient on particles of 0.3 microns in size.
Try to keep humidity levels low in your home — around 40 to 50 percent.
Wash all bedding weekly in hot water (130 degrees F).
Keep animals outdoors, if possible. If pets are indoors, keep them out of bedrooms and other rooms where you spend most of your time. Try to minimize contact, and wash your hands after touching.
Block crevices, wall cracks and windows where cockroaches may enter. Keep food in containers with lids, use garbage cans with lids and wash dishes immediately after use. Clean under stoves, refrigerators and toasters where crumbs can accumulate.
Remove any mold growth on hard surfaces with water, detergent and, if necessary, a 5 percent bleach mixture. For clothing, wash with soap and water.
Repair and seal leaking roofs/pipes. Use dehumidifiers in damp basements, making sure to empty and clean the unit regularly.
Richard Crockett, M.D., is a physician assistant in Allergy (Asthma) in Mankato, Minnesota.