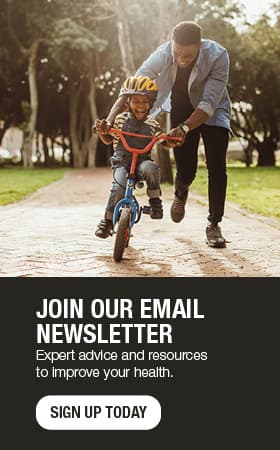 Breast cancer patient grateful for angels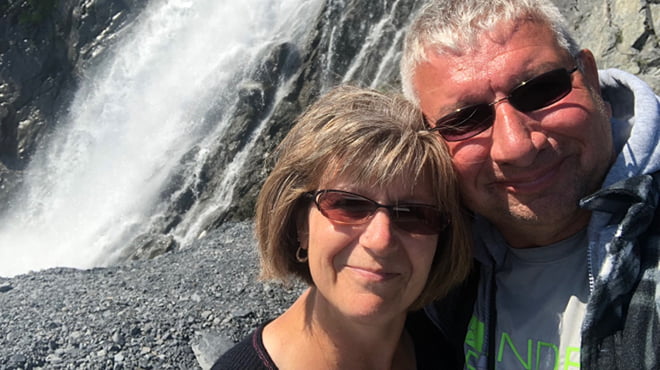 On Jan. 4, 2013, Brenda Braatz stepped on a roller coaster and didn't get off for five years.
At least that's how it felt on that cold January day, when Braatz — then 49 — was diagnosed with ER-positive, HER2-negative breast cancer. Testing — including bone, CT and PET scans — revealed the cancer had spread to her lymph nodes and breast skin. Testing also revealed suspicious spots on her liver and ovaries, but those were benign.
"It was overwhelming," the Sparta, Wisconsin, resident says of coping with the news and the treatment that followed.
Fortunately, she wasn't alone on her journey. Her husband, Mark, was beside her, of course. But Braatz says there was another group supporting her every step of the way: the doctors, nurses and other care providers at the Cancer Center at Mayo Clinic Health System — Franciscan Healthcare in La Crosse, Wisconsin. "They were my strength," she says. "They became like family."
STARTING TREATMENT
Soon after her diagnosis, Braatz met with Paula Gill, M.D., a hematologist/oncologist, to outline a treatment plan that began with two rounds of chemotherapy that's been nicknamed "the red devil," due to its unpleasant side effects. When follow-up imaging showed the powerful medication had failed to shrink the tumor in Braatz's left breast, she had a mastectomy. Kathleen Christian, M.D., a general surgeon, had outlined her options at an earlier appointment.
"When I was first diagnosed, Dr. Christian and her nurse talked to me about my surgery options," Braatz says. After learning about the types of surgery and reconstruction available, Braatz chose to have a skin-sparing procedure. This newer technique can preserve breast skin and allow for a more natural breast appearance following the procedure.
The day of Brenda's surgery, Dr. Christian removed the tissue, nipple and areola from Braatz's breast. Then, Matthew Sherrill, M.D., a plastic and reconstructive surgeon, entered the operating room to place a temporary expander under Braatz's skin to make space for the silicone implant that would eventually replace her breast tissue.
When Braatz healed from surgery, she began another round of chemotherapy. When that treatment was finished, she started seven weeks of daily radiation. It was an exhausting, stressful time.
"Radiation was taxing for me," Braatz says. "It wore me out."
CARING FOR THE BODY AND SPIRIT
During those difficult days, Braatz says she drew strength from Cancer Center staff. "When I would see them, I felt rejuvenation and hope," she says. "I felt like they were protecting me and giving me life. They made me feel I could do treatment just one more time. They're just amazing people."
In spite of the challenges of treatment, Braatz continued to work 40 to 60 hours a week as a manager at a local fast food restaurant. Her work became another source of strength.
"I felt like I needed to get out, and not stay home and stress and dwell on things," Braatz says. "I only missed one day of work throughout my treatment. I couldn't have done it if the company wasn't so flexible and wonderful."
GENETIC TESTING AND MORE TREATMENT
While Braatz was receiving treatment, her older sister was also diagnosed with breast cancer. That prompted Braatz to undergo genetic testing at Mayo Clinic's Rochester campus to learn if she had any gene mutations that might have contributed to her developing cancer.
"It was a scary decision to make," she says. "You really have to think before you do genetic testing because you have to decide if you're going to do anything based on the results." When she received her results, Braatz learned that she had the CHEK2 mutation, which put her at higher risk of developing breast cancer again. Based on those results, she decided to have a second mastectomy.
"I'd already had a lot of lump scares in my right breast," Braatz says. Even though none were cancerous, she was ready to have the breast removed and again turned to Drs. Christian and Sherrill for the procedure and reconstruction.
When Braatz healed, she made another decision, electing to have 3D nipple and areola tattooing. The procedure uses tattoo needles to create realistic-looking nipples.
"After my mastectomies, all I saw when I looked in the mirror was a big line through my chest," Braatz says. Initially, that didn't bother her.
But after she'd healed completely from surgery, she began to feel differently. "I'm very glad I did it and would recommend tattooing to any breast cancer survivor who wants to get their body back," Braatz says. "I will always have scars, but they're not the first thing I see any more when I look in the mirror."
THANKING HER ANGELS
Five years after her diagnosis, Braatz's journey continues. She still has treatments ahead of her, and lives with side effects from treatment, including tingling in her fingers and tongue.
But that's not what Braatz focuses on.
Instead, she focuses on celebrating life. She retired earlier this year. Soon afterward, she and Mark embarked on an extended vacation. The couple left home in April and don't plan to return until late fall. Among the highlights of their trip: visiting national parks in Canada and Alaska, where Braatz has enjoyed close encounters with grizzly bears, buffalo, wolves and whales. "We made a list of animals we wanted to see, and we've seen them all — most of them with babies," Braatz says. They've also visited family, including their son in Washington and grandchildren in California.
Before she left home, Braatz stopped by the Cancer Center to drop off a gift: a handmade card thanking the staff for her care. It's something she'd worked on for months, trying to find just the right words to show her gratitude. "I scribbled things down on a note pad every time I thought of something I wanted to say," Braatz says. "But you can't fit it all into words. They gave me so many things: strength, love, courage. I would have never made it through without those people. They are my angels."