We are experiencing high call volumes:
Use your account on the Mayo Clinic app or patient portal to check symptoms, get care recommendations and make an appointment.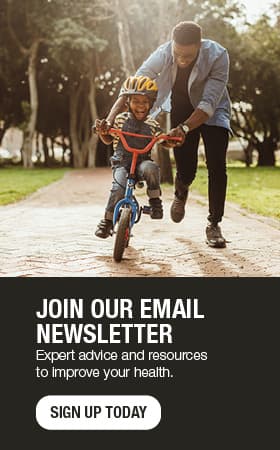 Family history awareness leads to preventive surgery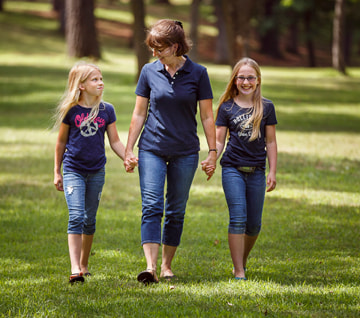 Earlier this year, actress Angelina Jolie raised awareness of the BRCA1 gene, which if mutated greatly increases a woman's chance of developing breast and ovarian cancer, when she announced that she'd had a preventive double mastectomy.
Yvonne Rands, 51, of Ladysmith faced a strong family history of BRCA1 gene mutation. On her mother's side, an aunt and cousin in the Netherlands died of ovarian and breast cancers at ages 48 and 38, respectively. A cousin tested positive for the mutated gene. Rands' uncle was the carrier, as were five of his eight siblings. People with the gene mutation have a 50 percent chance of being carriers and passing the gene mutation to their children.
Rands' youngest sister developed breast cancer at age 36 in June 2010. Her positive genetic test confirmed that Rands' mother is a carrier, too. Rands and three of her 10 siblings have been tested. Three tested positive. Rands and two of her sisters have had bilateral mastectomies and hysterectomies.
All people carry the normal BRCA1 gene. In most patients with breast cancer, that gene is not the cause. However, in less than 5 percent of patients with breast cancer, there is a mutation in the gene that leads to breast cancer and is the basis for the genetic testing. The gene mutation impacts cells that are affected by the hormones progesterone and estrogen, specifically the breasts, ovaries and uterus.
"If we see a patient with a strong family history of breast cancer, especially in mothers, sisters or aunts, or breast cancer in a patient younger than 45, we offer the BRCA genetic test. If it's positive, we discuss preventive surgery and reconstruction," says David Ciresi, M.D., a Mayo Clinic Health System general surgeon in Eau Claire. "We also offer genetic counseling before testing, particularly if patients are very young or have not been diagnosed with breast cancer. Many patients don't have the test until they're finished child rearing."
Rands chose to have a hysterectomy in January 2012. She was comfortable with diligent breast surveillance until November 2012, when her younger sister received a metastatic bone cancer diagnosis. "Cancer was off my radar," says Rands. "My sister had done everything right and her cancer still spread. I decided I was playing with fire." She began the process of double mastectomy and breast reconstruction in February 2013.
"Ms. Rands had a healthy attitude," says Dr. Ciresi. "She didn't jump right to surgery. Instead, she did her research and she thought about it."
Rands completed reconstructive surgery in June 2013. "For me, this decision represented an opportunity to consider what really makes a person," says Rands. "Is it our physical attributes or is it our heart? I'm still me. I'm still lovable, loved and have love to give. This is my life journey. I want to continue it as healthy as possible."
---
For the safety of our patients, staff and visitors, Mayo Clinic has strict masking policies in place. Anyone shown without a mask was either recorded prior to COVID-19 or recorded in a non-patient care area where social distancing and other safety protocols were followed.
Topics in this Post