Need to make an appointment?
Oncology (Cancer)
Oncology
Welcome to the Franciscan Healthcare Cancer Center in La Crosse
If you or someone you love has cancer, you want to feel assured that the most qualified physicians, health care professionals and the most comprehensive and latest treatment options are available locally.
We bring the knowledge of hundreds of Mayo Clinic cancer specialists — and the experience of treating more than a million patients — to your community.
We offer patients a full range of cancer resources, including surgical, radiation and chemotherapy treatment facilities with on-site lab services. Our specialized medical professionals are skilled at creating optimal patient care plans and coordinating care and treatment plans with Mayo Clinic. Other services available:
Surgery
Chemotherapy
Emotional and spiritual guidance
Pain management
Our multidisciplinary team approach integrates services to focus on the whole person, not just the disease.
The Cancer Center
You will be cared for in the Cancer Center, located in the lower level of the Center for Advanced Medicine and Surgery. The comfortable and healing environment was carefully considered when designing this area for our patients and their families - everything from soothing art on the walls to the layout of the treatment rooms and waiting areas. All services are offered in a single location with easy access to parking for chemotherapy and radiation patients.
Related Services:
Locations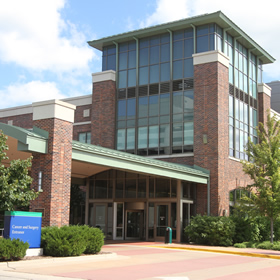 Cancer and Surgery Center
700 West Ave. S, La Crosse, WI 54601
Hours:

Mon-Fri:

8:00 AM - 5:00 PM