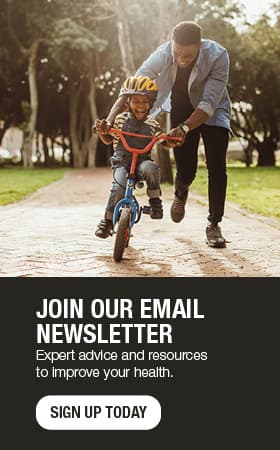 'From bad things, good things can happen': Connie Smith's cancer journey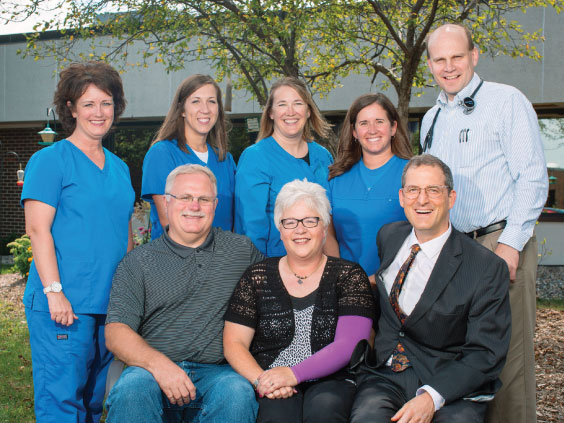 When Connie Smith was diagnosed with breast cancer, she felt numb and afraid. And she worried about how to tell her family, especially husband Lonnie, who had gone through cancer treatment himself a decade earlier.
But she didn't dwell on those feelings.
"From bad things, good things can happen," says Smith, a 53-year-old Truman resident. "All through treatment, I got to see how wonderful people can be. I have an amazing support system and have felt their outpouring of love throughout all of this."
Smith's cancer journey started after she found a lump under her arm in October 2011. A biopsy revealed the lump was cancerous. Surgeon Hyun Kim, M.D., and Jeffrey Green, M.D., Smith's family physician at Mayo Clinic Health System in Fairmont, delivered the news.
"Dr. Green was concerned but reassuring," says Smith (pictured at right, with husband Lonnie outside the Chemotherapy Department at Mayo Clinic Health System in Fairmont, with (standing, from left): Carolyn Jahnz, a licensed practical nurse, Jenna Faber, Darla Lytle and Britney Kawecki, all registered nurses, Jeffrey Green, M.D., a family physician, and (seated to Smith's right) Stephan Thomé, M.D., a medical oncologist.). "He wasted no time in getting further tests and appointments started. His immediate concern made me feel that he really cared and that alone made me feel comfort in what we were facing."
One of the tests Dr. Green ordered revealed a growth in one of Smith's fallopian tubes, which necessitated a hysterectomy with removal of both ovaries and fallopian tubes. Smith then met with Prema Peethambaram, M.D., an oncologist at Mayo Clinic. After determining her specific type of breast cancer, Dr. Peethambaram recommended Smith have chemotherapy, a double mastectomy and, finally, radiation.
"In less than a month, they had this all figured out and my fight to rid my body of this cancer was on," Smith says. She had her first surgery in Rochester and started initial chemotherapy treatment, and then finished in Fairmont. She has nothing but praise for the teams that administered her treatment in both places.
"Not only do they have nursing skills, and cancer knowledge, they have the human touch too," she says. "They went above and beyond to care for me. I consider them all friends forever."
Smith shares one example of the staff's kindness.
"I spent my 51st birthday at chemotherapy, and those girls had good wishes, hugs and even cake for everyone at infusion therapy that day," she says. "It was great."
After finishing chemotherapy in late March, Smith returned to Rochester in early May for a double mastectomy. After six weeks of recovery, she began 30 days of radiation treatment in Mankato under the direction of David Owens, M.D., Radiation Oncology.
"I had a wonderful experience with Dr. Owens and got close to the nurses and technicians there," says Smith, who is grateful to the many people — nurses, doctors, friends and family — who supported her throughout her journey. "I am truly blessed."
"My husband, Lonnie, was always positive, even on the really bad days. He came to every appointment and chemo treatment I had," says Smith. "My parents, family and friends were there for us even before I knew I needed them. Our employers were both very understanding and supportive. We were helped by so many."
Follow-up appointments with Stephan Thomé, M.D., a medical oncologist in Fairmont, have revealed that Smith is cancer-free.
"I feel fortunate to have such an experienced, knowledgeable doctor caring for me," says Smith. "I feel confident that he takes my health seriously."
Smith says going through cancer has changed her perspective.
"I try not to take anyone or anything for granted and to live life for today," she says. "You never know what tomorrow may bring."