Posted By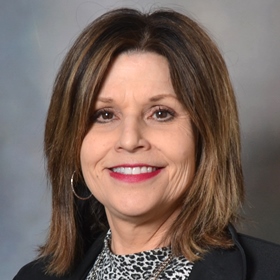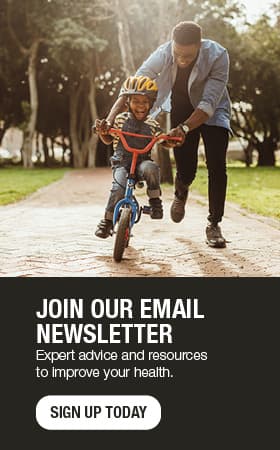 Healthy changes you will be thankful for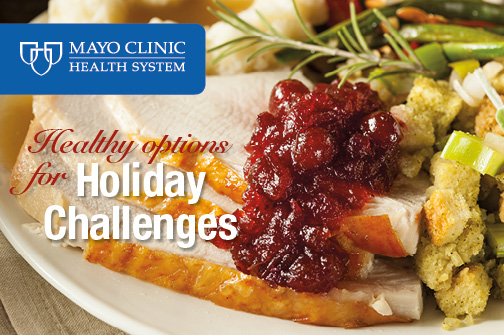 This is the time of year when many people struggle to maintain their health and weight. The holidays hold many challenges to encourage us to overindulge and discourage us from exercising. The challenges include the bombardment of advertisements to eat more and more of many high-calorie items, the plentiful amount of holiday goodies to entice us to eat everywhere we go, and even our own family traditions with high-fat, high-calorie recipes that are difficult to change. Then there can be the lack of exercise brought on by the colder weather and daylight saving time.
If we look at the facts around specific calorie budgets, a woman who weighs 150 pounds would need about 1,500 calories a day to maintain her weight without exercise, and a man who weighs 225 pounds would need about 2,475 calories each day. If there are 3,500 calories in a pound of body fat, the holidays can easily be a source of additional calories.
Unfortunately, added weight can cause issues with your health. Keep in mind, the average calories consumed on Thanksgiving can be well over 6,000 in a single day. Even as little as one hour of walking each day can add approximately 300 to 450 calories to your maintenance budget. This is only one way to offset the potential high caloric intake for the day.
Therefore, if you spend your calories wisely, making a few changes from your holiday traditions may be worth celebrating in a healthier way.
Consider these holiday recipe makeovers:
Instead of dark turkey meat at 65 calories per ounce, try white meat, which has 50 calories per ounce.
Replace canned cranberry sauce, at 400 calories per cup, and make your own at 44 calories per cup. See recipe below.
Instead of stuffing in the bird at approximately 500 calories per cup, make the low-calorie, tasty version at 150 calories per cup. See recipe below.
Instead of traditional gravy, which can have as many as 800 calories per cup, there are many low-calorie options to choose from to lower your calories and not compromise taste, with approximately half the calories.
Replace the traditional green bean casserole, which can pack between 300 to 400 calories per cup, with this lower calorie, tasty alternative (below) and you won't even notice the difference for a mere 100 calories per cup.
Instead of pumpkin pie with the crust, which is where most of the calories come from, at 80 calories per ounce with an average slice weighing 5 ounces or 400 calories, try our delicious crustless pumpkin pie recipe at 24 calories per ounce or 120 in a 5-ounce piece of pie. We even had it taste tested and approved by co-workers who sampled it in Weight Management Services.
It is important to remember the reason for the season is to get together and celebrate your family and friends with food to nourish your body, not abuse your body.
Fresh Cranberry Sauce
3 cups water
12-ounce bag of cranberries
1 large box of sugar-free cherry gelatin
Boil water and add cranberries. Gently boil for about 10 minutes. Add gelatin and cool.
1 cup equals 44 calories.
Stuffing
½ cup wild rice
¼ cup white rice
3 cups croutons
1 cup fat-free chicken broth
Mushrooms, sliced
Salt and pepper
Approximately 1–2 cups of vegetables, including:
Carrots, shredded
Green peppers, julienned
Celery, chopped
Onion, chopped
Boil wild and white rice, then drain. Add vegetables to the cup of chicken broth and cook until tender. Add rice and mushrooms to vegetable mixture. Add croutons to vegetables and rice. Season with salt and pepper to taste.
1 cup equals 150 calories.
Creamy Green Beans and Mushrooms
3 1/2 cups green beans, washed and trimmed
1 ¼ cups fresh mushrooms, washed and sliced thin
1/3 cup low-fat cream of mushroom soup
1/3 cup skim milk
2 tablespoon green onion, minced fine
Steam green beans in steamer until crisp, but tender (3 to 5 minutes). Place mushrooms, soup, skim milk and green onion in a medium sauce pan and bring to a boil. Reduce heat to simmer and cook briefly for 2 to 3 minutes or until mushrooms are tender. Stir frequently to prevent burning. Add green beans and heat thoroughly.
1 cup is approximately 100 calories.
Crustless Pumpkin Pie
1 15-ounce can pumpkin
1 12-ounce can evaporated skim milk
1–2 eggs or ¾ cup egg substitute
½ teaspoon salt
1–2 tablespoons pumpkin pie spice
1 teaspoon cinnamon
1 teaspoon vanilla
2/3 cup of sugar substitute appropriate for baking
Combine all ingredients and beat until smooth. Pour into a 9-inch pie pan sprayed with cooking spray. Bake at 400 degrees for 15 minutes; reduce temperature to 325 and bake for an additional 45 minutes. Pie is done when the knife comes out clean.
Each 5-ounce piece of pie (or 1/8 of the pie) is 90 calories. Add 2 tablespoons of whipped topping for an additional 50 calories if you so desire.