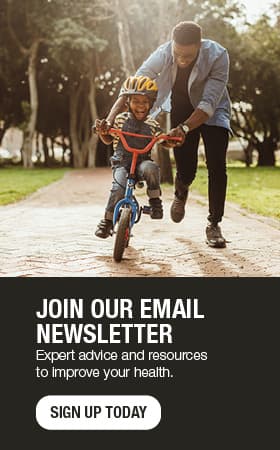 2 simple ways to lose weight
Weight loss can be a challenging, overwhelming process. In many cases, it is difficult to know where — and how — to start. According to the Centers for Disease Control, a targeted weight loss of 5 to 10 percent of body weight carries numerous health benefits and should be sought as an initial weight loss goal. The rate of weight loss is directly related to the difference between the individual's energy intake and energy requirements. Reducing caloric intake below expenditure should result in a predictable initial rate of weight loss that is related to the energy deficit. In other words, a higher level of physical activity and proper nutrition portions directly impact one's weight.
Here are two simple ways to lose weight:
DIETARY MODIFICATION
The goal of dietary therapy is to reduce the total number of calories consumed. Dietary adherence is an important predictor of weight loss, irrespective of the type of diet.
It is suggested to choose a dietary pattern of healthful foods, such as the Dietary Approaches to Stop Hypertension (DASH) or the Mediterranean-style diet, rather than focusing on a specific nutrient.
Preferred are diets which include:
Reductions in refined carbohydrates, processed meats, and foods high in sodium and trans fat
Moderation in unprocessed red meats, poultry, eggs and milk
High intake of fruits, nuts, fish, vegetables, vegetable oils, minimally processed whole grains, legumes and yogurt
To implement a successful dietary intervention, consider:
Eliminating high-caloric beverages, such as juices, sodas and alcoholic beverage,; and processed foods, such as potato chips, pastries and candy, which often are the source of unwanted calories. Instead, drink water throughout the day to stay hydrated.
Eating smaller portions and incorporating healthy snacks, such as fresh fruit, vegetables and nuts, between meals.
Self-monitoring by involving the use of food diaries, activity records and self-weighing. Tracking your efforts is one of the elements of a successful behavioral weight loss program.
MORE MOVEMENT
Physical activity should be performed for approximately 30 minutes or more, five to seven days a week, to prevent weight gain and improve cardiovascular health. Greater amounts of exercise are necessary to produce significant weight loss in the absence of a calorie-restricted diet. Therefore, when weight loss is the desired goal, a healthy diet should be combined with physical activity, such as hiking, biking, swimming or running. Over time, you can gradually increase the time or intensity of your physical activity. For some individuals, greater than 60 minutes per day of activity may be required to prevent weight regain following a significant weight loss.
Remember: it's important to first consult with your primary care provider about your weight loss goals. He or she can help tailor a solution with your specific goals in mind.
Nadar Ali, M.D., sees patients in Family Medicine in Faribault, Minnesota.