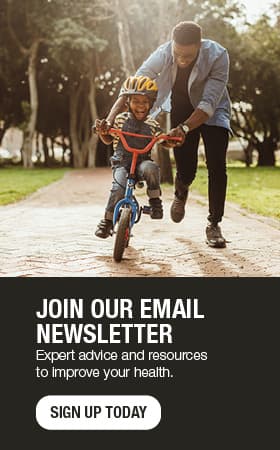 'There is a purpose for me' reflects patient with brain tumor
Jeff Calkins has a passion for baseball and softball. After coaching and acting as umpire for the Altoona Youth Softball & Baseball organization many years, he was happy to enjoy his granddaughter's game from the stands. But he was not enjoying a game in June 2019 due to a persistent headache and pain in his neck.
"For the next week, I slept all the time and wasn't eating. I lost 20 pounds," says the 59-year-old Altoona, Wisconsin, resident.
Jeff's wife, Kaylene, insisted that he go to Mayo Clinic Health System in Eau Claire. He was cared for by Ginelle Zimmerman, M.D., a medical resident from the Mayo Clinic Family Medicine Residency program. Residents care for patients in Family Medicine over the three-year training period and rotate to the Emergency Department, OB-GYN and Hospital Medicine to gain the full spectrum of health care experience.
Dr. Zimmerman examined Jeff and sent him to the Emergency Department, where a MRI of his head and neck showed a mass on his brain.
"Dr. Zimmerman said that I had a tumor on my brain, and we needed to get to Mayo Clinic in Rochester right away," Jeff says.
On June 27, 2019, Mayo Clinic neurosurgeon Ian Parney, M.D., removed a 2-inch tumor from Jeff's brain. Test results confirmed that it was a glioblastoma multiforme, commonly called glioblastoma, which is an aggressive type of cancer that occurs in the brain or spinal cord.
Zachary Wilson, M.D., Jeff's radiation oncologist at Mayo Clinic Health System in Eau Claire, explains that his symptoms were common for a glioblastoma. In addition to the fatigue, headaches and loss of appetite that Jeff experienced, other symptoms included nausea and seizures.
Jeff recalls the moments before surgery and reflecting on his family and life.
"I kept thinking, 'This could be it. They could never see me again,'" says Jeff. "I made the commitment to myself right there that this wasn't going to beat me."
Jeff was able to go home just two days after surgery. Once the tumor was removed, his treatment continued in the Albert J. and Judith A. Dunlap Cancer Center at Mayo Clinic Health System in Eau Claire.
"Jeff had 30 daily treatments of radiation with chemotherapy (temodar), which is the standard of care," says Dr. Wilson.
To complement this treatment plan, Jeff wore a device on his head that delivers electric fields to the brain which can help stop the spread of cancer cells.
"Jeff was an excellent patient that paid attention to detail and did not hesitate to ask question of myself and the staff," says Dr. Wilson. "He has always remained upbeat and eager to move to the next phase of therapy."
In addition to Jeff's positive attitude, Dr. Wilson explains that coordinated care made a difference in his case.
"That he was able to have resection of this tumor by a world-class neurosurgeon and was given care at a state-of-the-art cancer center in Eau Claire was key," says Dr. Wilson. "Our team strives to stay on top of technological advances in medicine and be at the forefront of major changes coming to the field of cancer care."
This coordinated, compassionate care led Jeff and Kaylene to transfer their primary care to Dr. Zimmerman after their earlier experience with her.
"The first time I saw her she was so professional and caring," says Jeff. "When I saw her again in the clinic, I just hugged her and said thank you."
In June 2020, Dr. Zimmerman completed her residency training in Eau Claire and relocated her practice to Minnesota. However, the compassion and care that drew the Calkins to her is consistent across other Mayo Clinic Family Medicine Residency program residents.
After a few months of cancer treatment, Jeff returned to his work as the lunch room and recess supervisor for the Altoona School District.
"The kids were great. They were interested in my machine and had a lot of questions," says Jeff. "Anytime that I would be gone from school for an appointment, I made sure to tell the kids so they didn't worry. When I came back, they would all clap and cheer for me. Those were powerful moments."
Jeff wanted to give back to the students. With the permission of the school's principal, he and his co-workers created 250 headbands, one for each student. His plan was to ask the students to wear the headbands on "headband Wednesdays" to remind them to be positive and encouraging of each other. However, the COVID-19 pandemic closed schools before the headbands could be distributed. Instead, a note from Jeff and a headband was given to each student when they picked up supplies at the end of the school year.
"I wrote in the note that everything was going good and the 'picture' of my head is good," says Jeff. "I also told the parents that they are doing wonderful jobs at raising their children. They have so much care and compassion in them to share with me. They have been a wonderful support for me and my family."
Reflecting on the previous year, Jeff believes he has been given a second chance at life.
"I believe there is a purpose for me here," says Jeff. "The tumor could have killed me, but I try to keep a positive attitude and go at life full strength every day. I think it is up to each individual to decide if their journey if bumpy or smooth. It's up to me to continue to do what I can do to live my life fully."