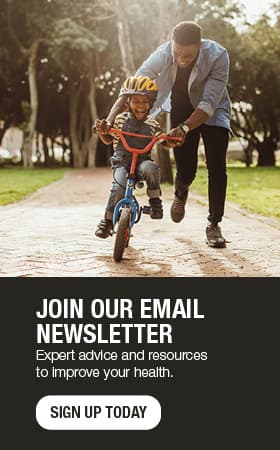 Home sleep study helps Holcombe man rest easy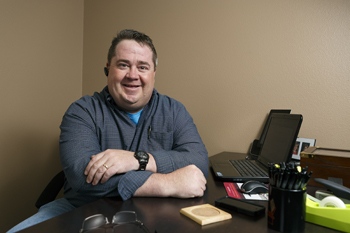 John "J.D." Kirkman knew the signs and symptoms of sleep apnea but never dreamed he fit the bill. The Holcombe, Wis., man wasn't tired during the day, never needed an alarm clock to wake up in the morning and felt refreshed upon wake-up.
But a family history of the sleep disorder, coupled with his wife Michelle's insistence that he snored and stopped breathing during the night, prompted him to have his sleep health evaluated.
A meeting with Ahmad Qureshi, M.D., a pulmonologist and sleep medicine specialist at Mayo Clinic Health System in Eau Claire, led to a referral for a sleep study. But unlike traditional sleep study, done overnight in the hospital sleep laboratory, Kirkman qualified for an at-home variation of its more comprehensive counterpart. The unattended portable sleep study allowed him to sleep in his own bed, cost less than the in-lab study and better accommodated his busy schedule.
"I don't think I would've done it had I not had the option of the home study," says Kirkman, a father of three who owns a retirement and investment services company.
In addition to his many personal and professional commitments, which would need to be adjusted in order to do the in-hospital sleep study, Kirkman also wasn't bothered by his symptoms as much as he thought he should be to meet the criteria for a sleep apnea diagnosis – and wasn't convinced he needed the test.
"I really thought that there was a chance that the sleep study was going to vindicate me, and boy was I wrong," Kirkman says.
His results showed that he experienced nearly 100 apneas, temporary suspensions in breathing, per hour. A person experiencing up to five apneas in an hour is considered normal, while 30 or more per hour is classified as severe sleep apnea.
Kirkman was diagnosed with obstructive sleep apnea, which occurs when the muscles in the back of the throat relax and narrow or close the airway. This may lower the level of oxygen in the blood leading to the brain sensing an inability to breathe and briefly rousing the person from sleep so he can reopen the airway. This awakening is usually so brief that the person doesn't remember it. This was occurring nearly 100 times per hour for Kirkman. He was immediately set up with a Continuous Positive Airway Pressure (CPAP) machine, which helps keep patients' airways open while sleeping at night.
"I used the machine every night for 30 days, and, within the first week, I already noticed results," Kirkman says.
He's not the only one in the house noticing benefits.
"My wife absolutely loves it," he chuckles. "I don't snore. I don't move. I lay perfectly still all night long, and I just have this wonderful sleep I guess. It is really interesting."
Mayo Clinic Health System began offering unattended portable sleep studies last year for patients who have a moderate to high probability of having sleep apnea – and who don't have significant cardiac, pulmonary or neurological disorders. While in-hospital sleep studies are still the gold standard, Dr. Qureshi says the in-home exams bring clear benefits to the right patients.
"The most important thing is recognition on the part of the patient that snoring is not just a social issue or a disruption to other people," Dr. Quereshi says of the common sleep disorder estimated to affect more than 18 million Americans. "It can cause significant health consequences so if patients have ongoing snoring they should be evaluated by a sleep physician."
Talk with your doctor if you have concerns about the quality of your sleep.