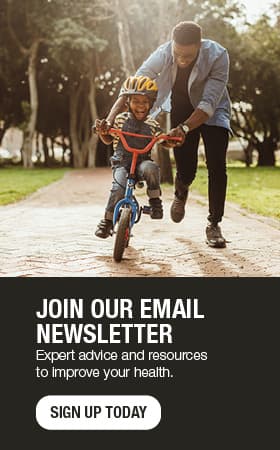 Parkinson's patient makes gains through targeted therapies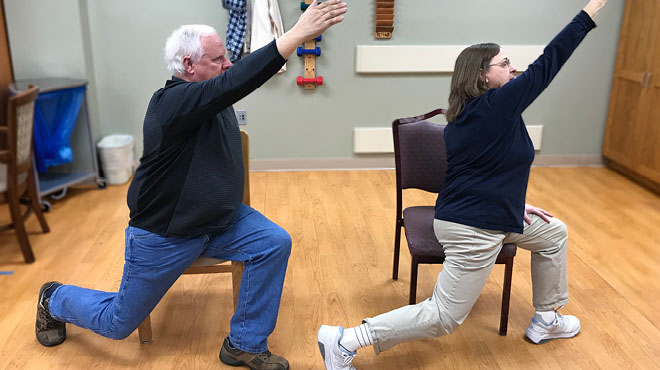 In John's mind, he's shouting when he's talking — even when his wife and friends are leaning in to try and hear him. When he's walking down the sidewalk, his mind is telling him that he's lifting his knees and swinging his arms, despite tripping over tiny cracks in the pavement.
Perception versus reality when it comes to speech and movement is a challenge for patients diagnosed with Parkinson's disease. John, 71, of Fairmont, Minnesota, was diagnosed by a Mayo Clinic Health System neurologist two years ago, as were other family members before him.
"I had numbness in my legs and tremors. I lost strength in my hands. I'd drop things. I'd trip and fall," says John. "I looked at (the actor) Michael J. Fox, and I thought, 'Am I going to get that bad?'"
Parkinson's disease therapy options
John's Family Medicine physician, Trevor Chan, M.D., recommended he try two programs in Rehabilitation Services at Mayo Clinic Health System in Fairmont: Lee Silverman Voice Treatment's "BIG" and "LOUD" programs for patients diagnosed with neurological conditions. "BIG" is a one-on-one treatment program that addresses walking, balance and specific tasks of daily living, including writing, cooking and getting dressed. The "LOUD" program helps people use their voice at a normal volume, and recalibrates their perception of loudness and vocal inflection ― both of which can be hindered by Parkinson's disease.
"I had stopped communicating a lot because my voice was so soft," says John. "My voice has been the hardest for me because when I hear myself, it's so loud."
John worked with Michelle Geerdes, an occupational therapist, and Jean Gerdes, a speech-language pathologist. For each program, they met for an hour several days per week over the course of a month. The programs can be completed individually in either order or simultaneously.
"Before the program, people were asking him 'What?' all the time," says Jean. "Also, with John, he has a preexisting lung condition, with one lung not working well. So volume was going to be an issue. John gets excellent volume, but he can't sustain it. Our goal has been to work on functional communication without having to repeat himself."
Individualized, targeted therapy
Michelle and Jean agree that one of the best aspects of both programs is that each is tailored to individual patient symptoms. All participants are asked about their challenges and goals. Jean says the best outcomes happen with people who practice the exercises at home during and after the program ends.
"Plus, it makes me feel better. After all the exercises, I can tell when I'm back to where I was," says John.
Some of the physical exercises include practicing hand-gripping, lifting his legs and performing exaggerated movements with wide arm swings to recalibrate perception of movement. Speech exercises include sustaining a vocal tone for as long as possible, reading out loud, and performing scales to help with pitch and inflection.
Parkinson's disease is a degenerative illness, and for many patients, symptoms return or worsen. Like John, other patients can repeat these programs to help as the illness progresses.
Having wrapped up both programs, John says that, for now, he feels a lot more like his old self. He's enjoying traveling to Florida, playing cribbage, and talking with friends and family.
"I feel more secure in myself with walking and bending over," says John. "With my speech, I can talk to my wife, and she doesn't have to say, 'Speak up.'"