Posted By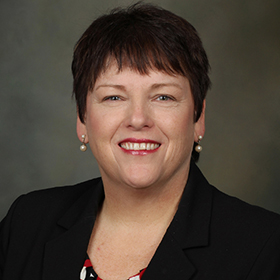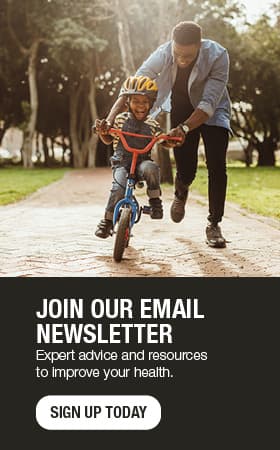 Osteoporosis: Breaking down this silent disease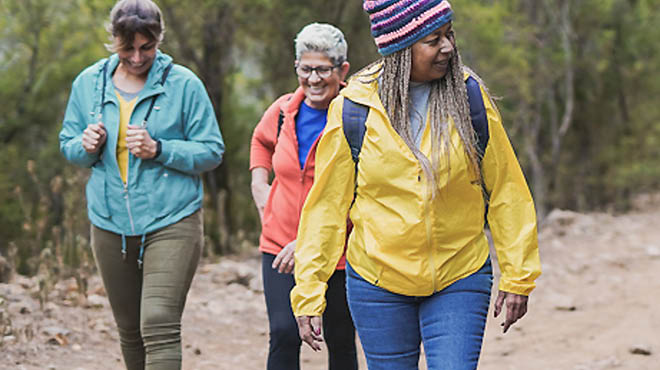 Sometimes, people develop symptoms and know something isn't quite right with their bodies. For example, a sore throat, swollen joint or digestive troubles will prompt a call to their health care team.
Other diseases and conditions aren't as apparent. This includes osteoporosis. I tell my patients that it's a silent disease. It's impossible to know if you have osteoporosis until you break a bone or have a bone density screening.
What is osteoporosis?
Throughout our lives, bone tissue is constantly being broken down and replaced. Osteoporosis occurs when the creation of new bone can't keep up with bone loss. Bones that become weak are more likely to fracture with no or minimal trauma.
Healthy bone mass is established with a healthy diet and weight-bearing exercise. People reach peak bone mass in their early 30s. After this age, the progress slows, and bone is lost faster than it's created.
Osteoporosis shouldn't be confused with osteoarthritis, a condition where the cartilage between bones breaks down over time. Osteoarthritis can be accompanied by joint pain, stiffness and swelling.
Who can develop osteoporosis?
Bone loss accelerates in the early postmenopausal years, but can occur before menopause, especially if women have other risk factors. Many people think that osteoporosis only affects older white women. While white and Asian women have the highest risk, osteoporosis can affect men and women of all races.
Other risk factors include:
Small body frame, since you have less bone mass to draw from as you age.
Family history, especially if your father or mother broke a hip.
Early menopause.
Hyperthyroidism or too much thyroid medication.
Low calcium intake, which is needed for bone growth.
Certain medications, such as steroids, acid blockers and seizure medications.
Other medical problems, such as rheumatoid arthritis, celiac disease and inflammatory bowel disease.
How do I know if I have osteoporosis?
Unfortunately, there are no symptoms when you start to lose bone mass. Osteoporosis doesn't hurt unless you break a bone. An unexpected bone break, like fracturing a vertebra in your spine or a forearm from a small pull, is a sign that your bones have weakened. Other signs could be a stooped posture or significant height change.
A bone density scan — also called densitometry or DXA scan — determines whether you have or are at risk of osteoporosis. It's available for people over 50 and recommended for women 65 and older and men 70 and older.
Are there medications to help with osteoporosis?
Yes, medications are available to preserve bone mass in people with a high risk of breaking a bone in the next 10 years or treat documented osteoporosis. These medications reduce the risk of fractures.
Commonly prescribed medications include denosumab, under the brand name Prolia, and bisphosphates in generic formulas or brand names, such as Fosamax, Boniva, Actonel and Reclast. New medications also are being developed.
Hormone replacement therapy also can be used for both men and women in certain instances. Finally, bone-building medications are available for people with severe osteoporosis when other treatment options didn't work well or in other special circumstances.
In addition, one field of research is focused on sequencing existing medications, combining drugs and determining the right medication for each person. Essentially, it's developing an individualized approach for each patient.
I'm worried about medication side effects. Are they safe?
Osteoporosis prevention medications are generally safe and well-tolerated. But like all medications, there is the potential for side effects.
Rare complications include unusual thigh bone fractures and sores in the jawbone following dental extractions, implants or trauma. For most people, the benefits of reducing fractures far outweigh the low risk of rare complications. Talk with your health care team if you're planning an invasive dental procedure and are taking osteoporosis prevention medication.
What can I do to preserve my bone mass?
There are healthy habits you can incorporate into your daily routine to help maintain your bone mass and keep your bones strong:
Add calcium to your diet.
For adults 19 to 50 and men 51 to 70, the recommended dietary allowance (RDA) is 1,000 milligrams of calcium a day. The recommendation increases to 1,200 milligrams a day for women 51 and older and for men 71 and older. Look for calcium in dairy products, almonds, broccoli, kale and tofu. Or talk with your health care team about supplements.
Don't forget about vitamin D.
Your body needs vitamin D to absorb calcium. For adults 19 to 70, the RDA of vitamin D is 600 international units a day. The recommendation increases to 800 international units a day for adults 71 and older. A supplement may be necessary, but you can find vitamin D in oily fish, mushrooms, eggs and fortified cereals. Sun exposure for 15 minutes a day can help your body produce vitamin D as well, although this is more challenging during winter months in the Midwest.
Get moving.
Weight-bearing exercises can help you build strong bones and slow bone loss. Try walking, jogging or climbing stairs.
Avoid substance abuse.
Don't smoke or drink more than two alcoholic drinks a day.
Talk with your health care team.
They can help you evaluate your risk and develop a prevention plan right for you.
Learn more about bone health:
Jane Korducki, M.D., is an endocrinologist in La Crosse, Wisconsin.