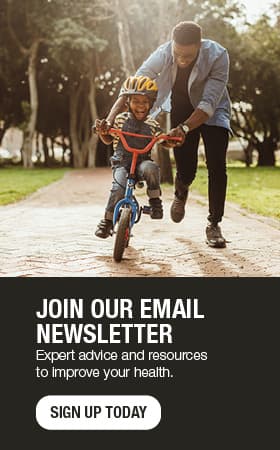 Monday Run Day 9: Balancing training and family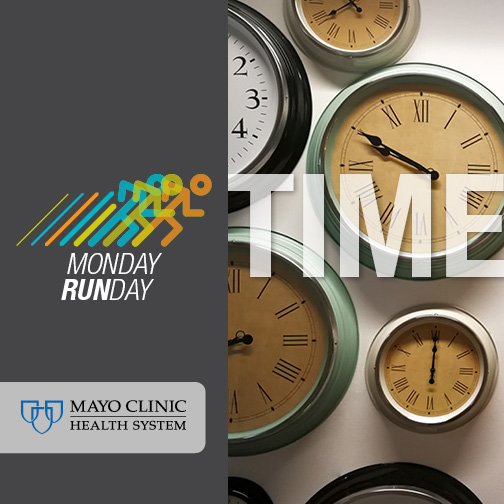 By now, you likely have put in hour after hour, day after day and week after week of training for this race. That's impressive! All that training time had to come from somewhere. Have you found yourself begging family and friends for forgiveness while dedicating so much time to achieving your goal?
Dawn Mihalovic-Bayer, a physician assistant at Mayo Clinic Health System – Northland in Barron, knows what it's like to balance intense training with family obligations. As a mom of two girls, ages 10 and 13, Dawn and her husband, a teacher, have plenty to keep them occupied.
"We have a pretty busy life for an average family," Dawn says. "It helps that we have a couple of grandparents in the area."
It was being able to keep up with her girls when they were little that inspired Dawn to get active and into better shape, and that continues to motivate her. She says she's always training for a marathon or triathlon but does not want her family to feel neglected.
"It means getting up at dawn and being out at first light on the bike or in the pool when it's dark, trying to get as much training as I can while my kids are still sleeping," Dawn says. She also has managed to make training a family activity.
"If I can incorporate them when I'm training, I do," Dawn says. "I'll take them to the pool or biking. Sometimes they run on the treadmill while I'm riding my bike inside on a trainer." Both of her daughters are runners and triathletes, though her husband has yet to catch the bug.
So, how does a busy mom who also works outside the home fit all that she needs to into a 24-hour day? Dawn says she has learned to make some adjustments, such as working a bit less during peak training for the Ironman Triathlon and cutting herself some slack.
"I do cook all of our meals — I'm pretty big on nutrition — but my house isn't as clean as it could be," she says.
You can do the same things Dawn does:
Make priorities, and cut yourself some slack along the way to achieve balance.
If they're interested and able, consider getting your family involved in your training to have a positive impact on their health and fitness level, while also creating family memories.
When you think about the long term, maybe a few chores can wait while you work through the toughest parts of this challenge. There will always be more dust, dirty dishes and laundry.
This time is for you, and you're worth the time and investment. When you cross the finish line, it all will be worth it.