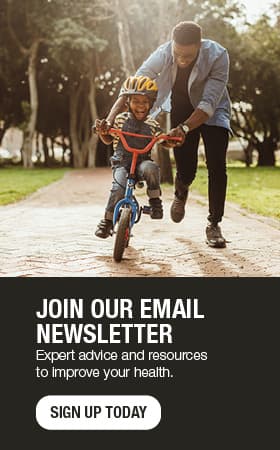 Need to exercise? Start slowly
It's said that a journey of a thousand miles begins with a single step. That's true when starting an exercise program too.
"The important part is just to start," says Chaun Cox, M.D., a family physician at Mayo Clinic Health System in Mankato. "Exercise provides so many benefits, both physically and mentally."
If it's been a while since you worked out, you may not feel like lacing up your shoes. But that's probably just what you need to increase your energy.
"When people don't feel well, the temptation is to do nothing," says Dr. Cox. "But when you exercise, you feel less tired. Even just taking a 10-minute walk is a good start."
Dr. Cox isn't just giving advice. Exercise is a priority in his life.
"For me, exercise is an excellent release," says Dr. Cox, a marathon runner and Ironman triathlete who works out after putting his young sons to bed. "It's an important stress reliever. It makes me feel better about who I am and what I do, and sets a good example for my boys."
Dr. Cox says you don't have to run a marathon to reap the benefits of exercise.
"Don't think you have to go out and win the race," he says. "Just start moving."
How much exercise do you need? According to the Department of Health and Human Services, adults should aim for:
At least 150 minutes a week of moderate aerobic activity (walking, swimming, mowing the lawn) or 75 minutes a week of vigorous aerobic activity (running, aerobics)
Two to three strength training sessions a week
While it's safe for most people to begin an exercise program, Dr. Cox says those with chronic medical conditions, such as high blood pressure, should consult with their provider before beginning to work out.
---
Low-cost workouts
You don't have to join a gym to work out. Low or no-cost options include:
Walking. Stroll around your neighborhood or through the mall. Park at the back of the parking lot. Choose the stairs.
Clean sweep. Housework can do double duty if you can get your heart rate up. Mowing, shoveling and gardening count too.
Child's play. Engage your kids in a game of tag, a bike ride or an after-dinner dance party.