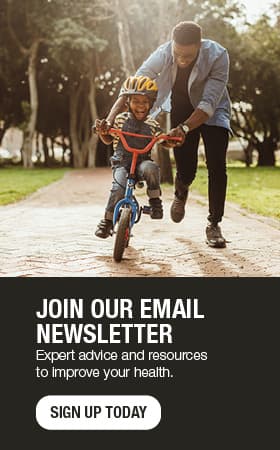 Monday Run Day 5: Staying motivated
You've put a lot of miles on by now. Congratulate yourself for staying committed to your goal. See? You're already a winner! Are you finding times when you look at the long road ahead and wonder how you'll maintain this pace until you reach the finish line? A slight shift in perspective might help.
Dawn Mihalovic-Bayer, a physician assistant at Mayo Clinic Health System – Northland in Barron, went from being inactive and out of shape nine years ago, to running more than a dozen marathons. Looking back has helped her to move forward, through everything from her first 5K to her first Ironman Triathlon last fall.
"I tell myself and other people, 'You need to look at how far you've come and not how far you have to go'" Mihalovic-Bayer says. "Think of what you've conquered to get where you are. When I'm running, I don't think, 'I've got 16 miles to go.' I think, 'Look, I've done 10 miles. That's pretty amazing.'"
She also reminds herself why she starting working so hard in the first place. For Mihalovic-Bayer, her motivation was being able to keep up with her two kids.
"When I had my first baby, I was overweight and out of shape," Mihalovic-Bayer says. "I wanted to be able to do everything they wanted to do."
These days, Mihalovic-Bayer is always training for her next event. To keep the constant training from getting monotonous, she varies her routine, including running, swimming, biking and strength training. She also says that continually studying ways to improve her technique and performance helps keep her interested.
Don't forget to celebrate your milestones — big or small. The satisfaction you gain from achieving your goals can help inspire you to move on to the next.
"There's so much you learn about yourself," Mihalovic-Bayer says. "You think, 'I did this; now, I know I can do that.'"
In case you get hung up on thinking you're not as young as you used to be, Mihalovic-Bayer says she draws inspiration from Ironman competitors who are still going strong in their 60s.
"You're never too old," she says. "I became an Ironman at age 47. Anything is possible. If you put the time and work into it, it will happen."
So what motivated you to start this journey in the first place? Keep that goal front and center as you put more miles behind you. Look how far you've come already!
Let us know why you're training for the Eau Claire Marathon. Have a story to share? We'd love to hear it. Join the discussion below.