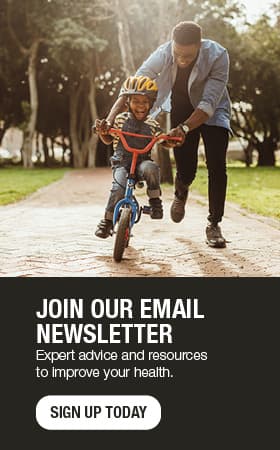 Making New Years resolutions that stick
It is that time of year again when people make New Year's resolutions, many of which are health related. Losing weight, eating healthier, exercising and quitting smoking are popular choices. Losing weight usually leads the group, but also is the most difficult to accomplish.
By the time the new year rolls around, many people are well-versed with the classic promise, "I will start my diet on Monday." In fact, by the end of December, many people have made that promise to themselves 52 times. Of course, if they think they are going to start something on Monday, they have had their "last suppers" during the weekend, which often results in weight gain. When Monday comes, "I'll start my diet next Monday."
To make the resolution into an actual solution, you have to go beyond just the classic promise, "I'll lose weight in the new year." You need to spend time preparing and planning. It's important to get ready to start, to make yourself a priority and get the commitment in place. There is no magic button for weight loss.
Have a specific goal: You may say "I would like to lose some weight," but it would be better if you said, "I want to lose 50 pounds in four months."
Set a realistic goal: With the right program, 50 pounds can be realistic. Ask the program you're considering what their average weight loss among participants is at one year out. Depending on the program and its weight loss approach, you might need to set a smaller, more doable goal.
Have a specific plan: Take the time to plan and research. You need to have a specific plan in place to start.
Set a specific target date: It doesn't have to be the magical "January 1." It is better to pick a date that has a plan in place to support you.
Think positively: Behavior only changes from the positive. Remember there are programs to help you accomplish your goal.
Confront your temptations: You will need to change your environment to help with your weight goals. Get rid of food that won't help you realize your goal — this should be part of your planning.
Tell your friends: Changing your habits for good may affect your inner circle of friends. Let them know what you're trying to do, and enlist their support in helping you achieve your goal.
Remember the reward: Make a list of the "real" reasons you want to lose weight (your health, your family). When you lack reasons to change, it is easy to fall back into old habits.
If you backslide: Give yourself another chance. Most people slip up at some point. The people who are successful are the ones who get back on track. Look at how many days you still have left in the calendar year and see what you can accomplish before the year is up. Don't give up.
Commit yourself. You can't take weight loss lightly. Make your weight loss a priority — just like a job or a family. Get yourself off the back burner.
---
For the safety of our patients, staff and visitors, Mayo Clinic has strict masking policies in place. Anyone shown without a mask was either recorded prior to COVID-19 or recorded in a non-patient care area where social distancing and other safety protocols were followed.
Topics in this Post