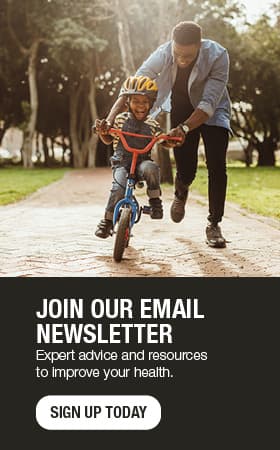 Exercises for a happy back
Oh, my aching back!
Sound familiar? If so, you're not alone. "It's estimated that 80 percent of all Americans will develop low back pain at some point in their lives," says Jason Banks, physical therapist at Mayo Clinic Health System in Mankato, Minnesota. "It's one of the most common reasons people see their health care providers and the most common condition we treat in Physical Therapy."

To avoid back pain, Jason says to pay attention to posture, body mechanics, diet and sleep positions. He says it's also important to stretch and strengthen the muscles in your back and core. Here's one stretch to get you started:
KNEE TO CHEST STRETCH
Lie on your back with your knees bent and feet flat on the floor.
Using both hands, pull up one knee and press it to your chest. Tighten your abdominals, and press your spine to the floor. Hold for 5 seconds.
Return to the starting position and repeat step 2 with the opposite leg.
Return to the starting position and then repeat with both legs at the same time.
Repeat each stretch two to three times — preferably once in the morning and once at night.
If you've hurt your back, or have osteoporosis or other health conditions, be sure to check with your health care provider first.
LEARN MORE