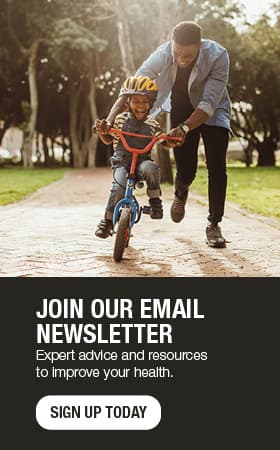 Arlene Wellemeyer finds pain relief, balance through yoga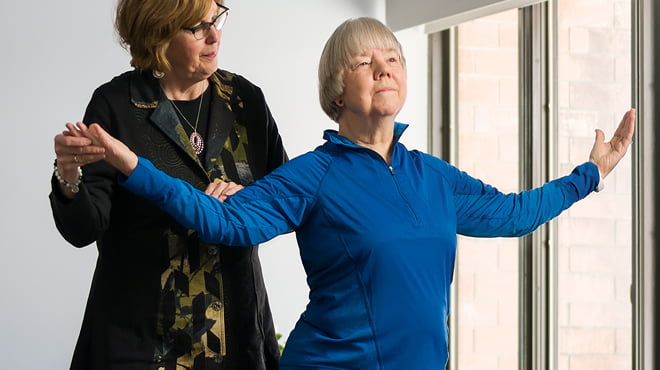 Arlene Wellemeyer was looking to relax and de-stress after decades at a demanding job.
"When I retired, I thought I could finally move around and do everything I want to do," says the Hastings, Minnesota, resident who retired in 2013. "But retirement ended up being more stressful than my working years."
Soon after retirement, Arlene transitioned into the role of caregiver, first for a family member with a disability and then for her husband after a surgery. During this time, Arlene's body began to break down. She began experiencing severe pain in her low back, and she was diagnosed with a pinched nerve in her lumbar spine. Her primary care provider at Mayo Clinic Health System in Red Wing, Minnesota, recommended physical therapy.
Arlene completed 12 sessions of physical therapy and found it to be helpful. However, she still had some pain in her low back after treatment ended, so she began looking for a solution that could help her physically and emotionally during this stressful time.
"My doctor told me that yoga works well for people looking to reduce anxiety and stress," she says. "So I looked on the Mayo Clinic Health System website and I read about private yoga therapy sessions."
Yoga therapy
Although all yoga is potentially healing, most yoga in the U.S. is exercise-focused, says Michele Hoffman, a yoga therapist at Mayo Clinic Health System in Red Wing.

"Yoga therapy is the specific application of yoga practices and teachings to address people's physical, mental and emotional needs," says Michele. "We study chronic health conditions and learn what yoga practices can help or harm."
Yoga therapists have training in anatomy, physiology and psychology, and they have observation and assessment skills.
"Yoga therapy is not a substitute for Western medicine, but it is an effective complementary therapy to treat and manage many health conditions, including chronic pain," says Michele. "Breathing practices, meditation and other yoga practices work on the autonomic nervous system. These practices can change a person's relationship to pain and the way they experience it."
Other health conditions that may benefit from yoga therapy include:
Arthritis
Asthma
Cancer — during and after treatment
Depression
Diabetes
Fibromyalgia
High blood pressure and other cardiac conditions
Multiple sclerosis
Parkinson's disease
Post-traumatic stress disorder
"In yoga therapy, our goals are to strengthen what's weak, release what is tight and bring balance to the body and balance to an individual's life," Michele says. "A patient's main goal may be to reduce back pain, but if they are also suffering from anxiety or chronic obstructive pulmonary disease, I can design a yoga practice to address those issues, as well."
During a private yoga therapy session, the yoga therapist observes a person's structure, posture, movement patterns, breathing, attitudes and behaviors. Over several sessions, the therapist can design a yoga therapy practice to address goals and needs while respecting their limitations.
Arlene, who describes herself as a perfectionist, says that Michele was excellent at diffusing any feelings of awkwardness or apprehension during her individual yoga therapy sessions.
"Michele talked with me for quite a long time to find out who I was and what my issues were, and we then started with really simple poses and breathing practices that she demonstrated by getting right down on the mat with me," says Arlene. "She was patient and went slowly."
After starting yoga, Arlene found relief from her pain quickly.
"Physical therapy was necessary in the beginning because it gave me most of my functionality back, but I am convinced that yoga is what helped me get it all the way back to health and maintain it," Arlene says. "I felt some improvement within a week."
Promising self-care practice
Arlene had eight individual yoga therapy sessions and then felt comfortable enough to join a weekly therapeutic group yoga class and continue home practice.
"Yoga takes long-term practice," she says. "It's a physical skill as well as mental intention. You gradually learn it, and it just becomes a habit."
And it is a habit that stuck.
Several years later, Arlene regularly attends a weekly yoga class. She also continues to practice at home, usually two to three times per week, with routines that Michele created specifically for her.
"Besides helping with my pain, yoga has improved my focus and concentration. I'm a believer in yoga. I really like it."
Check the Classes and Events page for information about upcoming yoga opportunities.