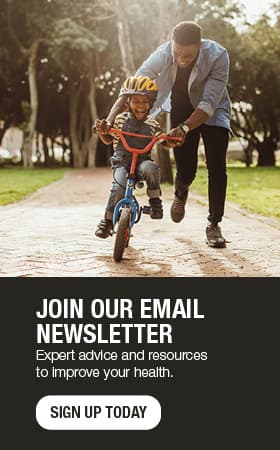 Care coordination gives Albert Lea patient a great transition
When Sandra Carter was told in January that she needed rotator cuff surgery on her shoulder, she was worried.
Complex care
Carter had been fighting with pain for over a year, which was caused by calcified tendons in her left shoulder. Her left arm needed to be immobilized post-surgery, so she was concerned about how she would use her walker. She lives alone, and taking care of herself during recovery would be challenging, if not impossible. She knew that a rehabilitation facility was crucial, but wondered how she could get admitted.
Carter is a complex patient. She has diabetes, coronary artery disease, hypertension, asthma and Parkinson's disease — which require a multitude of medications — and she deals with mobility and fall safety issues. Carter requires care and coordination in her home by Freeborn County Public Health and Mayo Clinic Health System – Albert Lea and Austin's Family Medicine department to ensure the safest and most complete care.
Care coordination
Linda Marino, a nurse care coordinator in Family Medicine on the Albert Lea campus, has monitored Carter's care for various health issues for more than a year and established a trusting relationship with her.
After Carter was recommended for shoulder surgery, Marino called her to start developing a care coordination plan. "She wanted to go to the Good Samaritan Society in Albert Lea for rehab," says Marino, "so I started things off with a 'let's talk to them' approach."
Marino also contacted Freeborn County Public Health to get Carter financial assistance, which allowed access to care. "A mental health worker was involved, and she would call us with Sandy's concerns," says Marino. A Mayo Clinic Health System social worker organized the level-of-care screening — a preadmission screen for assessing patient need for rehab or long-term care — and lined up Carter's post-discharge transportation to Good Samaritan.
How care coordination works
Marino works with patients with chronic illnesses who deal with daily health issues, helping them manage everything from medication to swelling, to issues as simple as weight control. The care coordination process worked fairly seamlessly in Carter's case, according to Marino. "This time it was helpful because each person knew a little bit more about what Sandy needed."
"I answer a lot of questions, do a lot of teaching, and involve people from different arenas of health care, including physicians, nurses and schedulers to get patients the services they need," says Marino. "The focus on taking good care of our patients, but also keeping them at a level of appropriate care to keep them out of the Emergency Department and hospital."
Marino says care coordination reduces cost to patients and the system.
Making a difference
Carter, who still receives daily care from a physical/occupational therapist at Good Samaritan, says she is satisfied with the way Marino and her care team worked with community resources to ensure a seamless transition from surgery to rehabilitation, and that she had a positive experience at Mayo Clinic Health System. "It was very good," she says. "I had help all along the way. The help was there when I needed it, and I really appreciated it."
Marino says she started this style of care coordination at the medical center four years ago because it helps team members communicate better. Team members fluctuate, but Marino says the team utilizes public health agency staff, mental health specialists and pharmacists. "Care is so much better when health care workers don't live in silos," she says. "We cross bridges to each other and address patient needs based on what each member can offer."