Posted By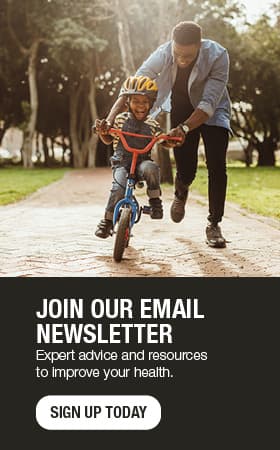 Watch out for winter health mishaps
Topics in this Post
Snow, ice and the arctic-chilled air that engulfs Midwesterners from November to March adds an unwanted layer of difficulty to life. But the problems winter poses don't stop at inconvenience — there are major health concerns to be aware of and attempt to prevent as well.
Here are a few common potential health issues to watch out for throughout the next few months.
Slips and falls
Slips and falls account for nearly 9 million unintentional injuries in the United States each year, per the National Safety Council. Most slips and falls occur at building entrances, on lawns, in parking lots and garages, and inside of walkways. Watch out for uneven ground, protruding structures, holes, and debris that can cause slips, trips and falls. Also, be aware of ice- and snow-packed surfaces — they increase the risk of falling.
Some tips for preventing slips and falls:
Wear the right shoes. Properly fitted shoes increase comfort, reduce fatigue and improve safety.
Take your time. If you notice that the floor or ground doesn't have much traction, walk slow and be careful with each step.
Walk safely. Walk with your feet slightly pointed forward and try the "shuffle step" to prevent slips, trips and falls.
Hypothermia prevention
Hypothermia is a serious medical emergency. Symptoms may include shivering, lack of coordination, confusion, drowsiness and slow, shallow breathing. It is caused by a person's body temperature dropping below 95 F (35 C).
These tips will give hypothermia the cold shoulder:
Dress in layers and wear weather appropriate clothing, including a hat and scarf to cover your head, face and neck, and mittens (not gloves) to keep your fingers warm.
Keep yourself dry. Wet clothing and cold weather can cause a quick drop in body temperature. Remove wet clothing as quick as possible. Be cautious of any winter activities that would cause you to sweat excessively.
Avoid alcohol use before participating in outdoor winter activities.
Keep your vehicle stocked with emergency supplies in case bad weather causes you to get stranded. Blankets, candles, matches, winter attire and a first aid kit would be helpful in an emergency. If possible, carry a mobile phone with you as you travel. If you're traveling during bad weather, alert someone where you are going, your planned route and expected arrival time.
Seek immediate medical attention if you are experiencing symptoms of hypothermia. As you wait for medical assistance, relocate to a warm location, remove any wet clothing and cover yourself with blankets or coats.
Frostbite
Having cold extremities is one thing, but frostbite is a whole different condition. And it's a very serious one. The first step to preventing frostbite is to know when you're most at risk. Your risk is elevated if you smoke, have a blood vessel disease like diabetes, aren't wearing proper clothing, are dehydrated or fatigued, and if you're at a higher altitude.
Once aware of your level of risk, take these measures to prevent frostbite:
Cover your ears, face, head and nose
Wear proper boots or shoes — no sandals or open-toed shoes
Wear mittens or gloves — mittens provide better protection
Put on two pairs of socks on extremely cold days
Pack your car with winter survival gear (blankets, flashlights, matches, etc.) in case of emergency
Travel with another person whenever possible
Illnesses
Winter is a season where colds and influenza are more prevalent than any other time of the year. There are some things you can do today to help prevent winter illness:
Get your flu shot. The most effective way to stop the spread of influenza is to receive a flu vaccination. Experts recommend that people ages 6 months and older get a flu shot.
Practice proper hand washing. Wash your hands thoroughly and frequently with water and soap or alcohol-based hand sanitizer. This is particularly important before leaving the bathroom, eating or touching your face.
Don't smoke. In general, smoking makes you more susceptible to illness.
Eat healthy and exercise. A nutritious diet and regular physical activity helps keep you healthy and boosts your immune system.
From slips to frostbite to winter-related illness, cold weather poses many challenges for people of all ages. Using these tips will aid you in your attempt to combat winter health mishaps and maintain good health.
Topics in this Post