Posted By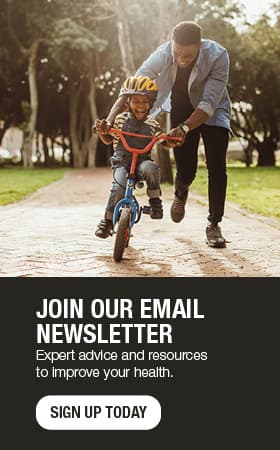 Watch out for winter mishaps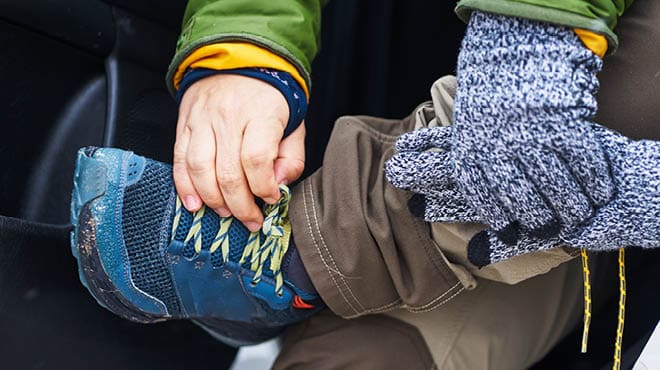 Winter is a beautiful season enjoyed by many people. Outdoor activities in winter can be enjoyable and exhilarating. Yet, there are some risks.
Snow, ice and the arctic-chilled air can add a layer of difficulty and potential danger to life. There are major health concerns that are more common during winter. Watch out for these throughout the season.
Slips and falls
Nearly 7 million U.S. adults are treated in Emergency Departments for fall-related injuries each year. The risk of slipping or falling increases significantly in winter due to snow and ice-covered sidewalks. Most slips and falls occur at building entrances, on lawns, in parking lots and garages, and inside walkways.
Watch out for uneven ground, protruding structures, holes and debris that can cause slips, trips and falls.
Follow these tips for preventing slips and falls:
Wear the right shoes.
Properly fitted shoes increase comfort, reduce fatigue and improve safety. Look for shoes with good support and traction. You also can purchase snow grips for the bottoms of your shoes or boots.
Take your time.
If you notice that the floor or ground doesn't have much traction, walk slowly and be careful with each step. Don't hurry when walking outside.
Walk like a penguin.
Walk with your feet slightly pointed forward and try the "shuffle step" to prevent slips, trips and falls. Taking small steps and waddling like a penguin helps you maintain your center of gravity.
Use assistance.
Always use handrails, a walking stick or a cane when out in winter weather.
Hypothermia prevention
Hypothermia is a serious medical emergency that occurs when your body loses heat faster than it can produce it. Symptoms may include shivering, lack of coordination, confusion, drowsiness and slow, shallow breathing. It occurs when a person's body temperature drops below 95 F (35 C).
Give hypothermia the cold shoulder by remembering the acronym COLD:
Cover
Wear weather-appropriate clothing, including a hat and scarf to cover your head, face and neck. Cover your hands with mittens, not gloves, to keep your fingers warm.
Overexertion
Be cautious of any winter activities that would cause you to sweat excessively. This can cause you to lose body heat more quickly.
Layer
Wear loose-fitting, layered clothing. Outer clothing made of tightly woven, water-repellent material is best for wind protection. Wool or silk inner layers hold body heat better than cotton does.
Dry
Keep yourself dry. Wet clothing and cold weather can cause a quick drop in body temperature. Remove wet clothing as quickly as possible.
When traveling, keep your vehicle stocked with emergency supplies in case bad weather causes you to get stranded. A charged cellphone, blankets, candles, matches, winter attire and a first aid kit would be helpful in an emergency. If you're traveling during bad weather, alert someone where you are going, the planned route and expected arrival time.
Seek immediate medical attention if you are experiencing symptoms of hypothermia. As you wait for medical assistance, relocate to a warmer location, remove any wet clothing and cover yourself with blankets or coats.
Frostbite
Having cold extremities is one thing, but frostbite is a whole different condition. And it's a serious one. Frostbite is an injury caused by the freezing of the skin and underlying tissues.
At first, the skin feels cold and has a prickling feeling. This is followed by numbness and swollen or discolored skin. Eventually, the skin may become hard or waxy-looking. Frostbite requires medical care because it can permanently damage skin, muscles, nerves and other tissues.

The first step to preventing frostbite is to know when you're most at risk. Your risk is elevated if you smoke, have a blood vessel disease like diabetes, aren't wearing proper clothing, are dehydrated or fatigued, and if you're at a higher altitude.
Take these measures to prevent frostbite:
Cover your ears, face, head and nose.
Wear proper boots or shoes — no sandals or open-toed shoes.
Wear mittens or gloves — mittens provide better protection.
Put on two pairs of socks on extremely cold days.
Pack your car with winter survival gear in case of emergency.
Travel with another person whenever possible.
Illnesses
Winter is a season where colds and flu are more prevalent than any other time of the year.
There are some things you can do today to help prevent winter illness:
Get your flu shot and COVID-19 booster.
The most effective way to stop the spread of flu and COVID-19 is to receive recommended vaccinations. Flu and COVID-19 vaccines are recommended for people 6 months and older.
Practice proper hand-washing.
Wash your hands thoroughly and frequently with water and soap or alcohol-based hand sanitizer. This is particularly important before leaving the bathroom, eating or touching your face.
Don't smoke.
In general, smoking makes you more susceptible to illness.
Eat a clean diet and exercise.
A clean diet and regular physical activity, plus a daily multivitamin with vitamin D, will keep you healthy and boost your immune system.
Cold weather poses many challenges for people of all ages. Using these tips will aid you in your attempt to combat winter health mishaps and maintain good health.
Lori Schumacher is a physician assistant in Emergency Medicine in Waseca, Minnesota.