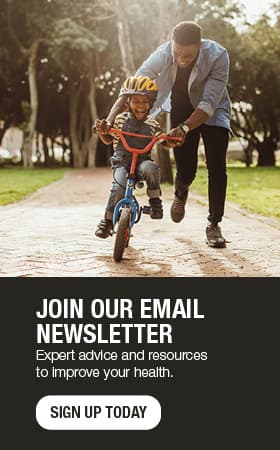 Tips for staying on track during 'national eating season'
By Mayo Clinic Health System staff
This time of year marks the beginning of what is often referred to as "national eating season" — the time between Halloween and New Year's Day. It can be a challenging time of year with an abundance of high-calorie food, lots of social events and many time-honored traditions that revolve around eating. It can make sustaining momentum with your weight management difficult.
It is important to be aware of these challenges. You cannot afford to have many high-calorie days. Every choice has a consequence. Own your choice. You can get back in control. But how?
Your weekly level of physical activity can make a significant difference in your weight management. Increasing your physical activity level during the holiday season will make it more likely that you will stay focused on your food choices.
Consider what could happen if you average a number of weekly physical activity calories for the next 10 weeks. You could lose or not gain these pounds just with physical activity:
1,000 activity calories = 2.9 pounds
1,500 activity calories = 4.3 pounds
2,000 activity calories = 5.7 pounds
2,500 activity calories = 7.1 pounds
3,000 activity calories = 8.6 pounds
3,500 activity calories = 10 pounds
4,000 activity calories = 11.4 pounds
Here are 8 additional tips and strategies to keep the weight off and still allow you to enjoy the holiday festivities:
1. Eat before an event.
Have a meal before you go so you arrive full. This is the most important thing you can do if you can't miss the event.
2. Make your foods ahead of time, and bring them with you.
Having a blended shake in a thermos or an entree with vegetables you make and bring can minimize the need to rely on willpower and self-control.
3. Prepare a healthy dish for everyone.
No one needs to know it's your healthy food. This way, you can enjoy the occasion guilt-free.
4. Offer to bring a vegetable tray or a fruit salad.
You can prepare it yourself or buy one at the grocery store. Once you arrive, don't be bashful about eating the food you brought.
5. Arrive fashionably late.
Don't make your appearance until the meal is finished. Just be sure to call ahead and explain why you're doing this.
6. Ask if there will be water and other low- or no-calorie beverage options.
Or, bring your own.
7. Keep track of what you eat daily.
This will help you stay connected to your diet and reinforce your positive behaviors.
8. Join a weight management program.
The structure and group support can help get you through the holidays and keep you on track year-round.
Find additional weight management resources, read our blogs about weight management and find class information near you that can help you reach your goals.