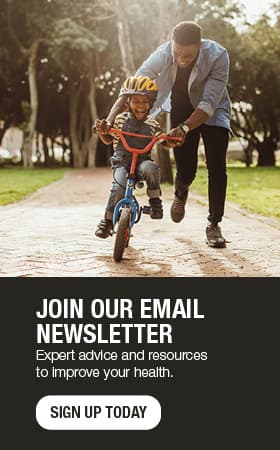 Is it healthy to eat eggs every day?
Eggs have been in the news a lot — again. It seems like every few years, questions arise about these meals in a shell. Are they good or bad for you? What about their protein and cholesterol?
Looking at the nutritional breakdown, one egg contains roughly 75 calories, 5 grams of fat, 6 grams of protein, 0 carbohydrates, 67 milligrams of potassium, 70 milligrams of sodium and 210 milligrams of cholesterol. Eggs are also a great source of vitamins A, D and B12, as well as choline, a nutrient essential in many steps of metabolism. Except for its cholesterol content, one egg is a healthy option for breakfast lunch or dinner.
Research shows that the cholesterol in eggs doesn't seem to negatively affect the human body compared to other sources of cholesterol. For example, eggs typically are eaten with other foods high in salt, saturated fat and cholesterol, such as bacon, cheese and butter. These foods are known to increase heart disease risk and should be eaten sparingly.
Most healthy people can eat up to seven eggs a week without affecting their heart health. Some choose to eat only the egg white and not the yolk, which provides some protein without the cholesterol.
Here's how eggs stack up nutritionally in dishes that feature eggs: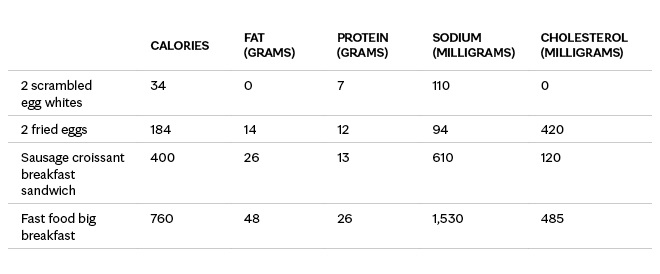 Try this veggie egg bake:
Serves 6
1 cup frozen chopped spinach, thawed
4 large eggs
4 large egg whites
1 cup skim milk
1 1/2 teaspoons dry mustard
1 teaspoon dried rosemary or 1 tablespoon minced fresh rosemary
1/2 teaspoon salt-free herb-and-spice blend
1/4 teaspoon ground black pepper
6 slices whole-grain bread, crusts removed and cut into 1-inch cubes
1/4 cup chopped onion
1/2 cup diced red pepper
4 ounces thinly sliced reduced-fat Swiss cheese
Heat oven to 375 F. Coat a 7-by-11-inch glass baking dish or a 2-quart casserole dish with cooking spray. Place the spinach in a strainer and press with the back of a spatula to remove excess liquid. Set aside. In a medium bowl, whisk together eggs, egg whites and milk. Add dry mustard, rosemary, spice blend and pepper; whisk to combine. Toss spinach, bread, onion and red pepper in a large bowl. Add egg mixture and toss to coat. Transfer to a prepared baking dish and push down to compact. Cover with foil. Bake for 30 minutes or until the eggs have set. Uncover and top with cheese. Continue baking for an additional 15 minutes or until the top is lightly browned. Transfer to a wire rack and cool for 10 minutes before serving.
Nutrition for 1 serving (3-by-3.5 inches): 258 calories, 10 grams total fat, 4 grams saturated fat, 137 milligrams cholesterol, 465 milligrams sodium, 25 grams carbohydrates, 3 grams fiber, 17 grams protein.
Eggs can be a good addition to a healthy, well-balanced diet. Just watch out for those high-calorie, high-fat extras, like cheese, bacon and butter.
Anne Harguth is a dietitian in Nutrition in Waseca, Minnesota.