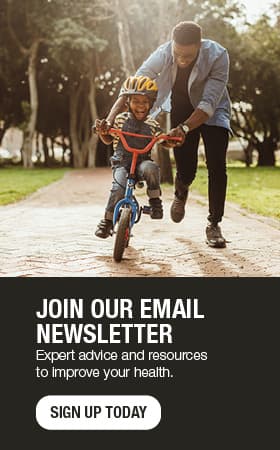 Eating healthy on a budget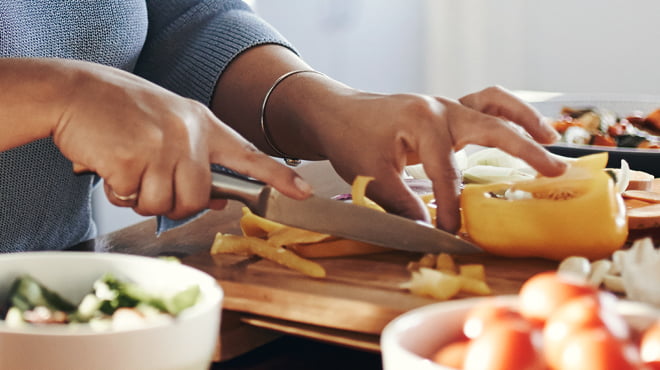 With food prices rising, your grocery bill may be giving you sticker shock. But you shouldn't toss your healthy eating goals because your food budget's getting squeezed. Now is a great time to pick up — or brush off — some smart-shopping and meal-planning skills. These skills can save money while buying and preparing healthy food for your family.
Start at home
Before you head to the store or place your online order, take time to plan and think ahead. Menu planning is a great way to make sure you're eating a balanced diet and meeting your nutritional needs. And, as every frugal cook knows, planning ahead can save time and money, not only at the store, but also during the busy work and school week.
Here's how to get started:
Take an inventory of what you have in the pantry, fridge and freezer. Buying duplicates, unless it's a great deal, can pinch your wallet and lead to food waste.
Pull out your recipe files or cookbooks for those healthy meal ideas. If you need some inspiration, check out these ideas from Mayo Clinic. You can search by meal, ingredient, special diet and more.
Plan your menus for the week. These don't have to be set in stone, but they help you draw up a shopping list and plan for how leftovers can be part of another meal. For example, extra seasoned chicken for Taco Tuesday can become the topping for a taco salad on Wednesday.
Make a list. Check what ingredients you'll need for each meal, as well foods to have on hand for snacks and treats.
Scan store ads for deals. Clip only those coupons that apply to the items on your list.
At the store
Once you get to the store or pull up your online ordering form, these tips can help you shop smarter and eat healthy:
Eat a snack or meal before you shop. When you're hungry, everything looks so tempting.
Avoid shopping alone since that can lead to impulse buying. Also, having older children along can teach them lifelong skills.
Stick to your list.
Steer clear of prepackaged convenience items, which typically are more expensive and provide fewer nutrients, compared to home-prepared. To maintain your healthy eating, money-saving goals, also limit sodas, chips, sugary cereals, crackers and convenience meals.
These detailed tips can help you when shopping in each food group:
Grains

Buy 100% whole grain. When grains are on sale, stock up and freeze them.
Oatmeal is a healthy, inexpensive whole grain with no added salt or fat.
Rice also is inexpensive. Brown rice is a healthier option, compared to white.
Whole-grain noodles are also healthy and typically inexpensive.

Fruits and vegetables

Farmers markets and local food stands often have the best prices.
Shop for items in season and buy only what you need.
Use fresh produce quickly to prevent spoiling and food waste.
Keep frozen fruits and vegetables on hand. They're often cheaper than fresh fruits and vegetables and can work in a wide range of recipes

Protein

Look for meats on sale.
Choose lean meats and lean cooking options, like broiling and grilling.
Buy a larger pack. Use one portion and freeze the rest for another meal.
Consider adding more meatless meals to your menus with tasty bean-based dishes. Beans are inexpensive and a great source of protein and fiber. Get tips for cooking beans. Or buy canned beans.
This rice-and-beans salad can be served as a main dish, side or a weekday lunch. Use no-salt-added canned beans instead of salted ones to cut the sodium content by half. Check your farmers market for early spring green onions and parsley.
Rice and Beans Salad
Makes 10 ¾-cup servings
Ingredients
1½ cups uncooked brown rice
3 cups water
½ cup chopped fresh parsley
½ cup chopped green onions or shallots (about 2 shallots or several green onions)
15-ounce can unsalted garbanzo beans
15-ounce can unsalted dark kidney beans
¼ cup olive oil
⅓ to ½ cup rice vinegar to taste
Directions
Place rice and water in stockpot. Cover and cook over medium heat until rice is tender, about 45 to 50 minutes. Cool to room temperature. Stir in the remaining ingredients. Chill 2 hours or longer.
Anne Harguth is a dietitian in Nutrition Counseling and Education in Waseca, Minnesota.