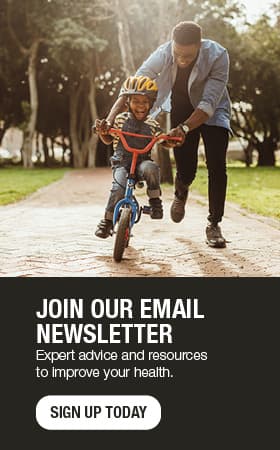 Athletic trainer provides sports medicine care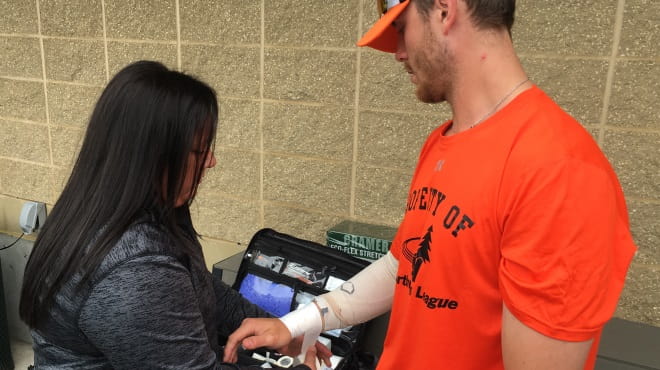 A few hours before the Mankato MoonDogs home opener in Mankato, Minnesota, team newcomer Sky-Lar Culver found Kiersten Schmidt in the dugout.
"Can you tape up my wrist?" Sky-Lar asks.
As an athletic trainer in the Orthopedics and Sports Medicine Department at Mayo Clinic Health System in Mankato, Kiersten does a lot of this type of care for the amateur baseball team players. She also keeps a critical eye on the athletes during games, watching for injuries.
BASELINE CONCUSSION TESTING
With the onset of the new season this year, Kiersten's scope of care broadened. She conducted baseline concussion testing for the first time. The preseason exam is used to assess athletes' balance and brain function, including memory, concentration and problem-solving skills. The baseline tests can be compared with results from a similar exam conducted if an athlete is suspected of having sustained a concussion.
"I thought it was important we do this," says Kiersten, noting that concussions are not a common occurrence. "When we have a little bit better background on the athlete, we can truly assess where they're at with their concussions. We're not playing a guessing game when they can return to play."
This is Kiersten's fifth year working with the MoonDogs — a team she worked with prior to joining Mayo Clinic Health System. She says she's always excited for the start of a new season.
"I love working with these elite athletes and getting to know their back story since they come to Mankato from all over the country," she says. "I enjoy every minute."
Kiersten provides coverage at all the home games for home and away teams. Athletic trainers also provide care for youth and professional teams.
"I am extremely excited to expand our sports medicine services and provide care to professional athletes," Kiersten says.
A TYPICAL DAY AT THE GAME
"On a typical day, I normally get to the field early while the teams are taking batting practice," Kiersten says. "During this time, I can complete any evaluations for injuries that may have happened the night before by putting the players through a series of tests. I can also watch them while batting and playing catch to determine if they are able to perform or if they should sit out for the game."
Before the games, Kiersten also helps get athletes ready by performing any stretches or treatment needed. During the games, Kiersten responds to any injuries, provides treatment and cheers the team on from the sidelines.
"I'm at the field in case any of the athletes get injured or a medical emergency happens," Kiersten says. "I can evaluate the injury to determine if the athlete is able to be treated on-site or if they should be referred to a physician, such as our sports medicine physicians. If there is a medical emergency, I can manage the situation until emergency medical personnel arrive, and the athlete can be transported."
LEARN MORE