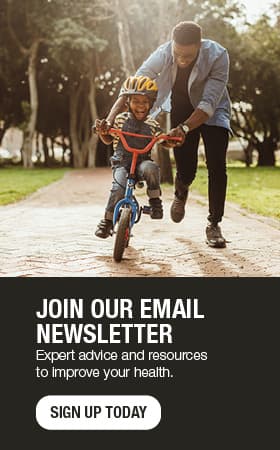 Mayo Clinic Advanced Care at Home bringing comfort, joy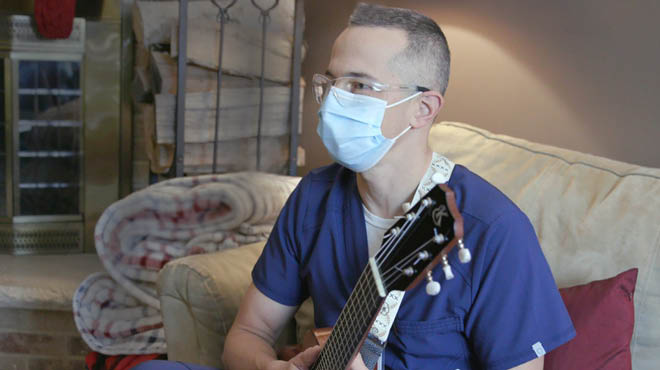 When you think about nurses, thoughts often turn to professional skills, medical knowledge and ability to care for people with varying conditions. Of course, nurses have outside interests and talents that don't tend to find their way into the workplace.
Lorin Divine, a nurse for the Mayo Clinic Advanced Care at Home Program, has found a way to bridge those two worlds.
Lorin is a string musician in scrubs who has incorporated music into varying roles across Mayo Clinic Health System. He has made a reputation for himself as the nurse who plays the ukulele.
And he's kept a similar tune in his latest role.
Chords, comfort, connection
Lorin says music was an important part of his childhood, and he continued sharing his musical talents while serving in the U.S. Army, playing the guitar alongside chaplains overseas. He continued to pursue music throughout college, exploring music therapy and voice.
He earned a bachelor's degree in nursing and began working as a float nurse. Now he works as a nurse with the Mayo Clinic Advanced Care at Home Program.
"Music has always been an important part of my life," says Lorin. "I always knew that music would play a role, regardless of whatever career path I took."
In his current role, he says music provides comfort and connection.
"I choose to bring my instrument with me to work in hopes that I can help calm and comfort patients when there is a need," he says. "Caring for patients provides me the opportunity to build human connections with them through music."
House concerts and more
The Mayo Clinic Advanced Care at Home Program is a new model of care that delivers innovative, comprehensive and complex care to patients. Patients with conditions previously managed in a hospital can transition to a home setting, and receive high-quality, virtual and in-person care and recovery services.
Under the direction of Mayo Clinic physicians, the program offers comprehensive and restorative health care services, including infusions, skilled nursing, medications, laboratory and imaging services, behavioral health, and rehabilitation services from a network of paramedics, nurses and support team members.
Lorin is one of many medical professionals across Mayo who are part of this program.
When he worked as a float nurse, Lorin often would get a call to help with a patient who was agitated, confused, disoriented or combative. Music offered a different way to get through to patients.
His music provides comfort and ease from whatever is causing the patient discomfort. In lighter moments, Lorin has been bedside to celebrate patients' birthdays or provide entertainment and play favorite songs.
As part of the Mayo Clinic Advance Care at Home Program, Lorin plays music during IV infusions or just to spread cheer.
Music and medicine
When asked about his favorite moment as a nurse, Lorin recalls a patient encounter that not surprisingly had a musical twist.
"We were having trouble with a patient who didn't normally have delirium but was very agitated, and they needed treatment to calm them," Lorin says. "They were confused and disoriented. I was asked to sit with them, converse and offer music. In this case, music helped to calm them out of a delirious state. By the end of the night, they told me that their experience in a delirious state was a nightmare and eventually ended up feeling like a vacation due to personal bedside care and offering of music. This patient knew that they were out of sorts and agitated but wasn't able to control it."
Lorin is of the thousands of nurses across Mayo who give their talents to patients daily. In his case, music is another tool he can use to provide comfort and joy.
"Lorin brings a unique skill set, and an ability to care for and connect with his patients," says Kasey Peissig, nurse manager for the Mayo Clinic Advanced Care at Home Program. "As nurses, we are trained in both the art and science of nursing to care for our patients. Lorin's ability to incorporate music into his care exemplifies our profession's ability to provide individualized and holistic care to the health care practice. His previous professional and life experiences make him a well-rounded nurse, allowing him to connect with patients in a wide variety of ways ― music being one of them."
Watch this video of Lorin playing for a patient: