Posted By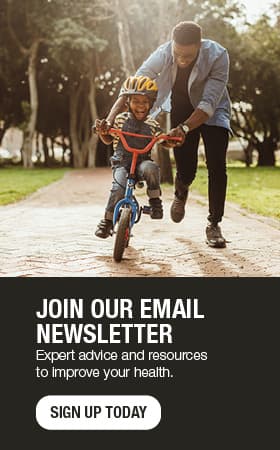 7 ways to reduce food waste in your kitchen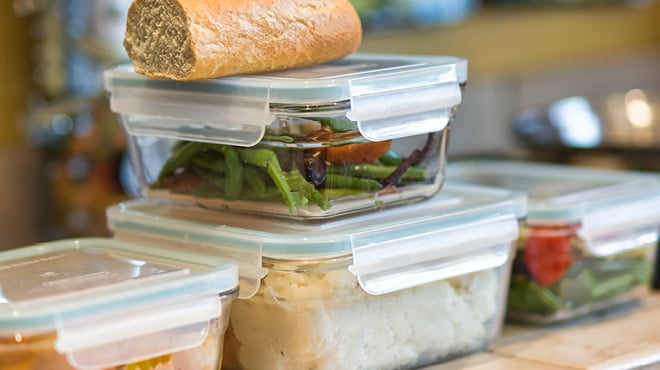 Food choices affect your health and the environment. Between 30% and 40% of food in the U.S. is thrown out or wasted each year, according to the Department of Agriculture. That equals about 133 billion pounds and $161 billion.
Food loss occurs at every step in the food supply chain from production to consumption. Some examples are spoilage during storage and transport, or exposure to insects and rodents, bacteria or mold. Sorting out blemished or imperfect produce results in loss, as does consumers buying more than they need or can consume. Not only is edible food wasted, but all the energy, fertilizer and land use that went into to producing that food is wasted as well.
Here are 7 ways you can reduce food waste in your kitchen:
1. Take an inventory.
Take stock of your pantry, refrigerator and freezer before going to the store to prevent overbuying.
2. Create a meal plan.
Planning at least a few meals for each week is a great way to ensure you have healthy meals. It also prevents you from buying too much food because you feel like you need to be prepared for anything. Coordinate your meals so you aren't using completely different ingredients for every recipe. For example, plan to eat broccoli as a side one night and in a casserole the next.
3. Save and eat leftovers safely.
If you don't think you will be able to eat your leftovers within three days, store them in the freezer and label them. Keep your freezer organized so food doesn't get lost and then thrown out due to freezer burn.
4. Store food appropriately.
One of the biggest reasons I hear people say they don't eat fruits and vegetables is because "When I buy it, it ends up going bad, and I throw it out anyway." Start by only buying what you can eat in a week. Store greens with a paper towel in a plastic container in the crisper drawer, tomatoes and bananas on the counter, potatoes and onions in a cool, dark place and fresh herbs in a glass of water. Have some frozen fruits and vegetables on hand in case you eat all your fresh produce before your next grocery day.
5. Buy "ugly" foods.
Purchasing imperfect food refers to misshaped or oddly shaped fruits or vegetables, and it has never been easier. Some companies will deliver "ugly" foods to you with a monthly subscription. You also can start a relationship with a local farmer through a community-supported agriculture or farmers market to get your hands on some imperfect produce. Remember, don't purchase bruised or spoiled produce.
6. Compost.
Even vegetable peels don't have to go to waste. Backyard composting is a great way to keep food waste out of the landfill and provide nutrition for your garden. You also can find small composting containers that you can keep in your home.
7. Use leftovers creatively.
Find ways to use rather than toss food that isn't fresh. Vegetable scraps and peels can be made into soup stock. Apples or blueberries that are soft work perfectly cooked in oatmeal. You can even use stale bread to make croutons or an egg strata. Slightly wilted vegetables are great for soups or stir-fries. One of the best things about soup is you can make it out of pretty much anything.
If you aren't sure how to start experimenting with using soups to use up leftovers, start with this recipe:
Make soup from any vegetable
Makes 4–6 servings
1–2 pounds fresh or frozen vegetables
Aromatics, such as an onion, a couple garlic cloves or leeks
1–2 tablespoons olive oil
4–6 cups low-sodium broth
Seasonings to taste, such as pepper; cumin; chili powder; ginger; or dried herbs, including basil, sage, oregano and bay leaf.
Leftover cooked meat, rice, pasta, quinoa or beans, optional
Cut up the vegetables and aromatics. Heat olive oil in a pot over medium heat. Saute the aromatics for about 5 minutes or until fragrant and soft. Add vegetables, except for any delicate greens, and continue cooking for several minutes until softened slightly. Add seasonings now so the flavors blend well in the soup.
Add 4–6 cups of broth and bring to a simmer. Turn the heat down to low and cover the pot. Cook for about 30 minutes. If you want to leave the vegetables intact, take the soup off the heat when vegetables are tender but still firm. If you want the vegetables soft for pureeing, keep cooking until they fall apart. Add delicate greens, such as spinach, a couple minutes before taking the soup off the heat.
Once the vegetables are soft, you can puree the soup in a blender or with a stick blender. Rewarm gently after blending. When pureeing the soup, you can add flavor and creaminess by adding beans, tofu, coconut milk or plain yogurt.
Once the soup has finished cooking, you can jazz it up more, especially if you're not pureeing it. Add leftover cooked pasta or rice, cooked ground turkey, diced chicken breast, a can of rinsed beans, chickpeas or tomatoes, and simmer until warmed through.
Romi Londre is a dietitian in Nutrition in Eau Claire, Wisconsin.