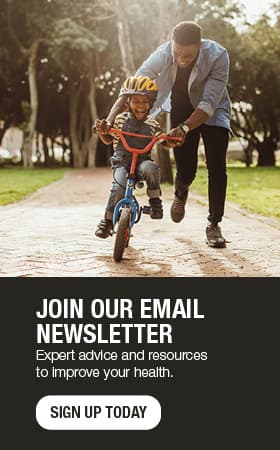 3 simple tips for healthier smoothies
Smoothies can be a nutritious treat, but remember — just because it's called a "smoothie" doesn't mean it's healthy.
Watch this video for tips for nutritious, filling smoothies:
Slow down
Watch your consumption. When you drink liquids, like a smoothie, you tend to consume calories quickly and can end up feeling hungry.
Take your time. By drinking smoothies slowly, there's an increased chance you'll feel full and consume fewer unnecessary calories.
Enjoy...then wait. The brain can take 20 to 40 minutes to release satiety (feeling full) hormones, so wait before eating or drinking more — maybe you won't be hungry.
Skip the fruit juice
Avoid added sugars. Stay away from sugars in your smoothie, including fruit juice.
Use water or milk as your base. Skim milk, unsweetened almond milk, unsweetened soy milk or water are all good options for the liquid base of your smoothie.
Add a protein source. Include milk, plain yogurt or plain kefir to your smoothie to help increase satiety or feeling full.
Keep the veggies visible
Include vegetables. Adding kale, spinach, carrots and beets are all great ways to increase vegetable consumption for children.
Keep the fruits and vegetables visible. Children need to be exposed to fruits and vegetables in their whole, natural form to know they're part of a nutritious diet. Including vegetables is recommended, but hiding them in smoothies and other dishes should not be the sole source of exposure.
Give taste buds time. Kids need to be exposed to new foods 10 to 15 times before the food is considered as disliked.
Try these delicious smoothie recipes:
Fruity smoothie
1 cup frozen, unsweetened strawberries
1 cup frozen, unsweetened peaches
3/4 cup frozen, unsweetened blueberries
1 large, ripe banana
1 cup fat-free, low-calorie peach or strawberry yogurt
1 cup skim milk
Put all the ingredients in the blender and process until the mixture is smooth. Stop the blender and scrape the sides so everything gets mixed well. Pour the smoothie into serving glasses.
Serves 4
Green smoothie
1 banana
1/2 cup strawberries
Juice of 1 lemon (about 4 tablespoons)
1/2 cup other berries, such as blackberries or blueberries
2 ounces fresh, raw baby spinach (about 2 cups)
1 tablespoon fresh mint or to taste
1 cup cold water or ice
Place all ingredients in a blender or juicer and puree.
Serves 4
Kelly Tasky is a registered dietitian nutritionist at Mayo Clinic Health System in Mankato.