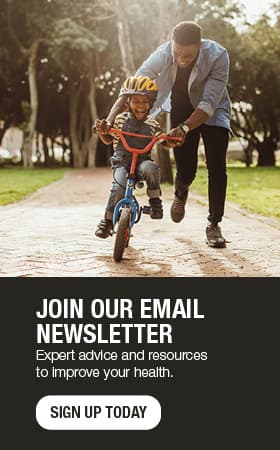 Team approach helps farmer beat lymphoma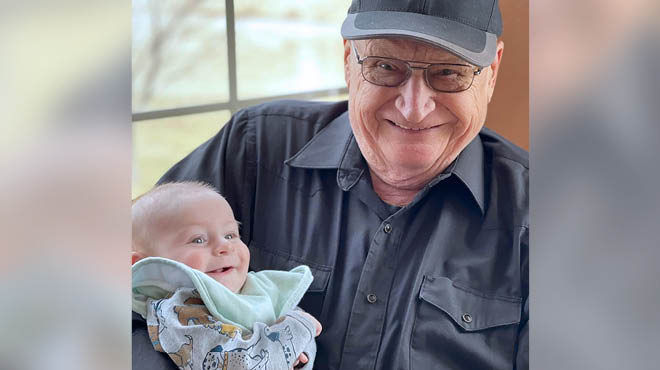 Shortly before Thanksgiving 2021, Jerry Haines, a part-time farmer and retired butter and cheesemaker, was helping another farmer with fall chores. He felt good but noticed an odd lump on his upper arm.
"It wasn't too big — only about the size of a hickory nut. I thought that something bit me," says the 81-year-old Arcadia, Wisconsin, resident. "Over the next few days, it got bigger. Then I found a lump in my armpit too."
Getting a diagnosis
Jerry talked with his wife, Sherry Haines, and they decided to get the lumps examined. Jerry scheduled an appointment with his primary care provider, Paul Winey, a physician assistant at Mayo Clinic Health System in Arcadia.
"Jerry has always been mindful of his health, and his wife makes sure he doesn't dismiss anything," says Paul. "Given the location and characteristics of his lesions, an ultrasound was ordered as it is available quickly and conveniently at the Arcadia clinic."
Winey reviewed the scanned images with his Family Medicine colleagues, Jodi Breska, M.D., and Timothy Cox, M.D. The evening before Thanksgiving, Dr. Breska called the couple to explain that the team was concerned and recommended a CT scan of Jerry's chest and arm.
Soon after, Jerry and Sherry made the 44-mile trip to Mayo Clinic Health System in La Crosse for the scan. Oncologist Jonathan Ticku, M.D., reviewed the results and explained to the couple that Jerry would need a biopsy and a PET scan to confirm a diagnosis.
With the results in hand, Dr. Ticku confirmed that Jerry had diffuse large B-cell lymphoma, a type of non-Hodgkin's lymphoma. This type of cancer begins in the lymphatic system when the body produces too many abnormal white blood cells, which can form tumors throughout the body.
Team approach to cancer care
Treating cancer is a team approach at Mayo Clinic Health System, explains oncologist Scott Okuno, M.D. The Oncology team collaborates with a multidisciplinary group, including Pathology, Surgery, Radiology, nursing, Pharmacy, Social Work, financial counselors, schedulers and primary care providers, to determine the best treatment approach for each patient.
"Each team has daily huddles to review the patients we will see and go over each other's plans. We provide additional experience and expertise to each patient's case. Each patient is essentially getting multiple second opinions during the treatment journey," says Dr. Okuno.
In Jerry's case, the team recommended six cycles of chemotherapy followed by radiation.
Managing health conditions during treatment
In January 2022, Jerry began chemotherapy and all went well. Except Sherry was concerned about one medication — a steroid.
"He had been given a high dose of prednisone before chemo. I was surprised because it seemed so high," says Sherry, a retired nurse of 52 years. "But they explained that it would help him tolerate the chemo, and then I felt fine. I asked a lot of questions, and we always had someone to go to and never waited for answers."
Sherry was right to ask, as Jerry has Type 2 diabetes, and prednisone can increase blood sugar levels. While Jerry completed chemotherapy treatments, she monitored his blood sugar and used the Mayo Clinic patient portal to communicate the results with Paul.
"As was expected, his blood sugars did fluctuate quite a bit," says Paul. "He was reluctant to use insulin to manage his blood sugars. Through extensive use of our patient portal, his wife was able to provide me with frequent updates on his sugar levels. This allowed us to adjust his oral medications almost daily to keep his sugars within range."
Treated like family
The couple says they have always felt close to their hometown health care team in Arcadia, but their experiences extended that to encompass their new team in La Crosse.
"It's like we became one big happy family. Everyone treated him like he was the most important person. It made the long days go by faster," says Sherry.
In celebration of Jerry's birthday, the couple delivered treats and hosted a chemo birthday party in the Oncology unit during his third round of chemotherapy. And the good news continued.
Dr. Okuno explained that Jerry's cancer was responding so well to treatment that he would only need four rounds of chemotherapy instead of the expected six.
Driving away cancer-free
After 15 radiation treatments and 44 round trips to La Crosse, Jerry was declared cancer-free in April 2022. He decided to do something big to celebrate. On the way home from his last appointment, he stopped at a Ford dealership and bought a new pickup truck.
Jerry now is in a cancer surveillance program for the next five years, which includes a physical examination and blood tests every three to six months. He also will have CT scans at regular intervals. Coordinating this care is Oncology physician assistant Allison Humes, who has built a rapport with the couple.
"She's something else. We joke together," says Jerry.
Sherry has been impressed with Allison's thoroughness and reassuring nature.
"She doesn't let him leave until she's fully examined him and answered every question," Sherry says.
Allison explains that connections like this help to personalize health care for patients and the care team.
"We all have unique life experiences, but there are always pieces of our story that connect with other people's experiences," she says. "My goal is for patients to know that they are being heard during each of our visits."
Hometown care continues
Today, Jerry remains cancer-free and is feeling well.
"I'm still kicking but not as high. Chemo did slow me down a lot, but I'm one of the lucky people," he says.
He and Sherry are spending time with their 13 grandchildren and 13 great-grandchildren and feeling appreciation for the care they received in their hometown and down the road in La Crosse.
"We live in a rural area and only have a clinic in town. Some might say 'it's just a clinic,'" says Sherry. "We are lucky we have the clinic. We had no delays from Day One until where we are today. Everyone has looked out for Jerry."
The admiration is mutual, and the care team praises the couple for having a positive attitude.
"Jerry has been an exceptional patient," says Allison. "He has maintained an inspiringly positive attitude throughout his cancer journey despite undergoing intensive chemotherapy."
Paul stresses that teamwork begins with the couple.
"I have known Jerry since 2006, and he's an 'OK' patient. He begrudgingly listens and follows instructions. However, his wife ensured he was a 'great' patient and provided a balanced optimism in a rough situation. While there were ups and downs, both remained positive," says Paul. "His experience is evidence of the team approach culture at Mayo Clinic Health System. Multiple teams and departments came together for a positive outcome. Central to this was a man and his wife believing in us and trusting us with his care. That is the true reward."