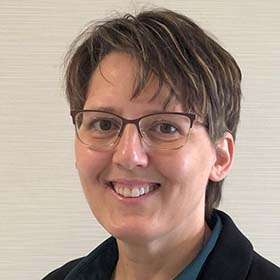 Appointment Information
Arcadia, WI
Clinic
895 S. Dettloff Drive, Arcadia, WI 54612

Appointments
Training & Credentials
Medical School
University of Wisconsin Medical School, Madison, WI
Residency
Sioux Falls Family Practice Residency, Sioux Falls, SD
Certifications
Certified, American Board of Family Practice
American Academy of Family Physicians
Special Interests
When and why did you decide to become a doctor/provider?
My junior year of college my friends and I decided to go to medical school together. They decided to become a PA and Dentist during our senior year. I did not know what else to do, so I stayed the course. During a summer internship after my first year of medical school I knew I was where I belonged.
Do you have any unique hobbies/interests/hidden talents?
I want to run a marathon or at least a half marathon again.
What types of things do you do to have fun/relax?
Reading, cooking, baking, hiking, biking, fishing, and visiting with family and friends.
What would be your number one piece of wellness advice to a patient?
All things in moderation.
Why did you choose to come to Franciscan Healthcare - Arcadia?
The people are friendly and there are many similarities to Lancaster, my hometown. The staff is very compassionate and dedicated.
Do you have a favorite patient story from your time in Arcadia (without naming names)?
There are too many to choose a favorite. I feel honored to be a part of peoples lives in the manner I am.
Find More Providers