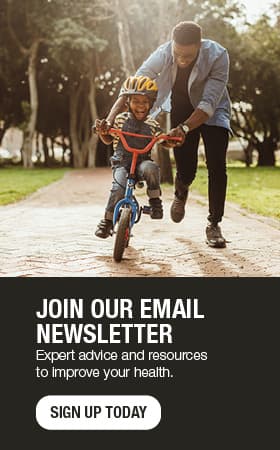 Special delivery: Teleneonatology helps deliver baby 10 weeks early
Lizzie Stoltz' husband, Shaun, thought she was kidding when she called him at work on June 30, 2019, and told him her water had broken. Lizzie was only 30 weeks pregnant. She had been in a family wedding just two days earlier.
"I said: 'No, no. I'm positive my water just broke,'" Lizzie says. "Then we realized there's no reversing this now. This is actually happening."
The couple lives in Bloomer, Wisconsin, a population of roughly 3,500, with their son, Noah. Lizzie had planned on delivering their second child at Mayo Clinic Health System in Eau Claire, which is a 30-minute drive away.
However, it soon became clear they wouldn't be making that trip. Things were happening so quickly that Lizzie needed an ambulance to get from her house to the nearest hospital just three minutes away — Mayo Clinic Health System–Chippewa Valley in Bloomer, a critical-access location that is staffed 24/7. But because of its size, there is no labor and delivery service or a neonatal ICU.
Assembling the team
Jon Farm, a physician assistant, was working in the Emergency Department and only had about five minutes to prep for Lizzie's arrival. He called Phillip Skaar, M.D., the on-call Family Medicine physician that day, to assist. Dr. Skaar immediately headed for the hospital.
"I didn't know if he was going to make it in time, so I thought I was going to end up managing two patients at the same time," Jon says. "I was glad to see him walk in the room."
Jon knew he had to take an aggressive approach with such an early delivery. The first step was to summon the appropriate resources and team. That included calling Mayo Clinic Teleneonatology in Rochester, Minnesota, to request help via telemedicine, which is a tool that allows medical providers to communicate and see patients from an off-site location.
Christopher Collura, M.D., a Mayo Clinic neonatologist in Rochester, suddenly appeared via video on the telemedicine screen in Bloomer, ready to immediately assist Dr. Skaar and Jon.
"I was able to log on to my home device and connect directly to the emergency room in Bloomer, and get a brief update about what their current situation was," Dr. Collura says.
"We kind of had a plan before the baby was delivered," Jon says. "[It was} very helpful."
Lizzie arrived at the Bloomer Emergency Department just in the nick of time and ready to push. Amazingly, through it all, Lizzie remained calm, though she remembers her legs shaking so much that Shaun helped to hold them.
Dr. Skaar prepared to deliver the baby, while Jon got ready to resuscitate the newborn.
"Mom was focused on being in the moment, working through the labor pains and pushing," Dr. Skaar says." Dad was attentive, right at the bedside."
By this time, more than a dozen people had joined the room to work as a team, including a Mayo One flight crew from Eau Claire, Bloomer nurses and doctors, and Dr. Collura in Rochester over 100 miles away, still consulting via telemedicine on the screen next to Lizzie's bed.
"The technology is really good," Dr. Colurra says. "It brings us right into the moment with the team at the health system sites and the care of the baby. We have controls to zoom in on different areas of the room and improve our audio or talk to providers with a handset if needed. Short of us standing right there with the team, it's the next best thing."
"It was literally like having a specialist looking over your shoulder," Dr. Skaar says. "It was remarkable."
However, there were complications. Hopes for a fast delivery were dashed because the baby was presenting face up. But, finally, the tiny baby was delivered. Her umbilical cord was quickly clamped. Her face was badly bruised, and she was not crying and was blue.
Jon began resuscitation measures immediately, as the baby was limp and not breathing. With the baby in the warmer, he began intubating and getting an umbilical line started for medication. Dr. Collura remained by his side on the telemedicine screen, taking the guesswork out of caring for such a premature newborn.
"Clearly, they had a great team model, and though neonatal resuscitation is something that they may not do often, they clearly had a very strong, interdisciplinary team," Dr. Collura says.
An encouraging sound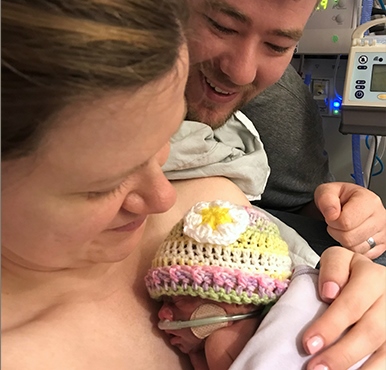 While all this was going on, Lizzie was unable to see or hold her baby, but suddenly, she heard sounds.
"I could hear her kind of making those cooing noises, so I knew that she was OK," Lizzie says.
At just 3 pounds, 10 ounces, the newborn girl looked like she could fit in the palm of her dad's hand.
By now, the Mayo Clinic neonatal flight crew from Rochester had arrived on scene and prepared to take the tiny baby, named Madelyn Grace Stoltz, to Mayo Clinic in Rochester, where she would receive care in the Neonatal ICU. Madelyn had just become the first baby born at the Bloomer hospital in years — and the first to be born at the hospital with the support of teleneonatology.
Lizzie and Shaun followed their baby to Rochester, and Mayo Clinic would become their second home for the next 44 days. While there, Shaun noticed the banners that announce Mayo Clinic's No. 1 national ranking by U.S. News & World Report.
"They hold that true, the best of the best," Shaun says. "We're fortunate to have them so close."
Back in Bloomer, Dr. Skaar and Jon reflected on what had just happened and the role telemedicine played in the case.
"It's the most amazing medical situation I've been involved with," Dr. Skaar says. "When I got home that night, it took a while to get to sleep. It was like, 'Wow, we really did some good today.' It was a great feeling."
"It gets the patient the right care at the right place at the right time," Jon says. "That's what telemedicine does."
Lizzie says the expert support helped put her mind at ease through the stressful event.
"It was just a great peace of mind knowing that there was another set of eyes, and somebody that's experienced and was able to just kind of take on that role and to help other people in this situation where this is not their everyday ― and even having babies is not their everyday," Lizzie says.
Madelyn is thriving ― eating well, growing and getting used to life at her real home with big brother, Noah; protective dog, Kennedy; and mom and dad.
"It's broken sleep with a lot of smiles — she's going to be demanding," he says with a laugh. "But she'll be a fighter, that's for sure."
In this video, Lizzie and Shaun Stolz explain how their care team in Bloomer and Rochester worked together to care for their baby girl who was born 10 weeks early in the Emergency Department at Mayo Clinic Health System in Bloomer: