The Fishers' miracle: Umbilical cord prolapse leads to speedy delivery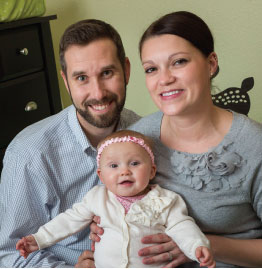 Sam and Erin Fisher, like all new parents, are looking forward to celebrating their daughter's first birthday. But the day will carry extra significance for the Eau Claire couple because they know how close the birth of little Emery came to ending in tragedy.
"She's our little miracle," Sam says of his now 9-month-old daughter.
Erin recalls having a "pretty easy" pregnancy. A dental hygienist in Mondovi, she was working on Monday, April 8 — the day baby Emery was born five weeks early. The mom-to-be had passed on a lunch invitation with her co-workers that day.
"I said to my co-workers, 'You know, I just better stay here. I really should stay caught up on my charts. You never know when I might be leaving,'" Erin says.
Shortly after lunch "out of nowhere," as Erin recounts, her water broke.
Erin made the 30-minute drive from her Mondovi office to her home in Eau Claire. Her plan to proceed to the hospital when her labor progressed changed after she noticed that the umbilical cord had started to come out.
"I started to panic because I knew that was really bad," Erin says. "If the cord gets pinched, that's the baby's blood and oxygen supply. I was panicked."
Sam, who left work early when he found out Erin was in labor, had a similar reaction to the unexpected development.
"Everything changed in an instant," Sam says. "I felt helpless. I knew it was important to help keep Erin calm despite my own anxiety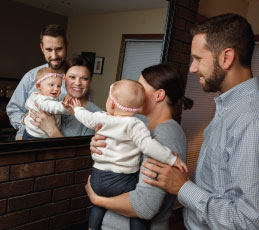 and panic."
They quickly set out for Mayo Clinic Health System in Eau Claire and called 911 in transit. The dispatcher advised the couple to stop at a nearby fire station and continue their journey via ambulance. Meanwhile, the dispatcher alerted the hospital that Erin was on her way.
Jennifer Bantz, M.D., the Mayo Clinic Health System obstetrician/gynecologist on call that day, was among the many medical professionals who met Erin in the Emergency Department. Erin was diagnosed with umbilical cord prolapse, a rare complication of pregnancy in which the umbilical cord drops into the vagina ahead of the baby. It occurs about 0.3 percent of the time, or 3 in 1,000 births. When this happens, the cord can become compressed, decreasing the baby's oxygen supply. Immediate delivery via C-section is critical to avoid problems such as brain damage or death.
En route to the operating room, Dr. Bantz pushed the cord back into place and directed Erin to assume an "all-fours" position on the gurney to reduce pressure on the cervix. Another responding OB/GYN rode on the gurney with Erin and pushed on the baby's bottom to keep pressure off the cord.
Emery was born on April 8 at 4:21 p.m., less than 90 minutes after Erin's water broke.
"We delivered the baby, and she did very well," Dr. Bantz says, adding that neither mother nor daughter suffered complications from their harrowing ordeal."
Despite being born five weeks early, Emery only needed to stay in the hospital's special care nursery for two nights and has no long-term health concerns. She's a healthy, happy girl who is learning to walk and babble.
Sam praised the team for its valiant efforts to give his family the best outcome possible. "We were so close to having a completely different outcome. I feel extremely fortunate that everybody was there to make sure Emery was delivered to us healthy."
Topics in this Post
Comments (1)
Jennifer W
Thursday, May 12, 2016
I had the same situation with my daughter. She was born 26 days early on January 5, 2015. My water broke as I was coughing but I never went into labor which saved her life. We drove to the hospital at 8:17 pm and she was born at 8:58 pm. I did everything wrong I put underwear and pants on and sat in the car seat trying not to sit on my bottom. I still can't believe I never went into labor. The nurses in the ER were so surprised when the found the baby's heart beat they thought she was dead considering everything that had happened. Adalynn was a healthy 5 lbs2oz baby with no health problems. The nurses kept referring to my daughter as the miracle baby. They explained to us why. No health concerns for me either but the fear of if I have another baby will this happen again. So glad to hear they had a happy ending as well.