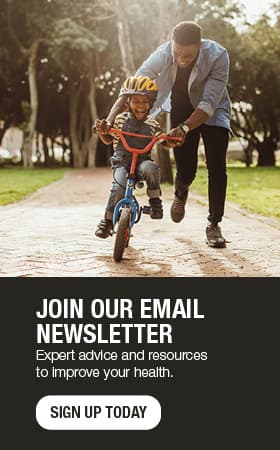 Cal lives on through books for grieving parents, families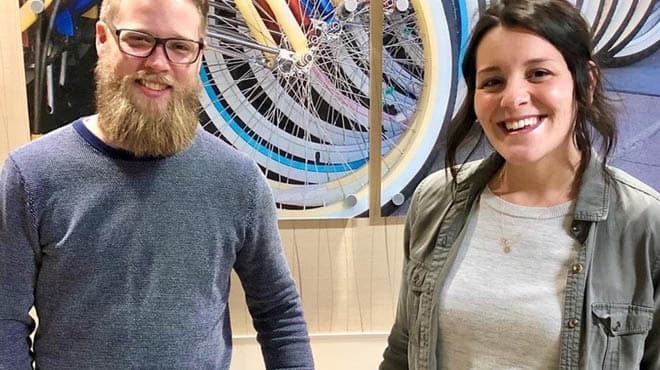 Like all couples who learn they're going to be parents, Rebecca and Dan Sharpsteen, of Mankato, Minnesota, experienced immense joy and anticipation for their first child. That joy turned to heartbreak when Cal was stillborn at 38 weeks at Mayo Clinic Health System in Mankato.
"As a mother-to-be, you have so many hopes and dreams you create during the nine months you carry a baby," says Rebecca. "When we lost Cal, we felt we were losing our future."
As Rebecca and Dan began processing Cal's death, they talked with Amanda Bassett Swanson, a social worker in Psychiatry & Psychology. Amanda told them to look at every part of Cal: to unwrap his blanket and look at his feet and all of his features. It helped the couple realize that, as Rebecca says, "Cal was still born, even though it was a stillborn birth."
So the couple held Cal, sang to him, took pictures and, of course, cried. They say they're thankful for the compassion and suggestions that Amanda and other care team members offered them. And they cherish the pictures and memories of their brief time with Cal.
It's now been more than a year since Cal died. Rebecca admits there have been a lot of ups and downs, saying, "We've been trying to heal and navigate the grief of losing our child."
Part of that healing has been to share their story and reach out to other parents of stillborn babies.
"For parents whose baby is stillborn, the time they have in the hospital is the only time they'll have with their baby," says Rebecca. "And they're in such shock at the loss they often don't know what to do next."
When the couple started thinking about having another baby, Rebecca began looking at books to read to Cal's future siblings about his death. As a school social worker, Rebecca says, "Working with little ones, I see how important reading is and how books can help them understand things."
Part of her job is to find resources to help explain hard topics to kids. She discovered wonderful books for many different situations involving the death of a child.
Reading about grief and how to get children through it can guide adults, as well. "While there are great resources for adults, in the moment, when they first lose their baby, parents are still processing," says Rebecca. "Something simple like a children's story can help."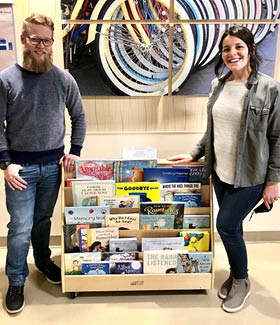 It was that knowledge that gave birth to an idea to help heal not only other parents and families who lost a baby, but also themselves. In February, the Sharpsteens donated a book cart, named Cal's Corner, to the hospital in Mankato. The couple reached out to their network of friends and family to stock Cal's Corner with books for parents to read to their stillborn baby, and books for the baby's siblings. The cart is in the Labor and Delivery unit.
"All the memories parents have of the child they lost is that eight to 12 hours in the hospital," says Bassett Swanson, whose work includes bereavement support for parents. That's why the hospital offers physical reminders like casts of hands and feet, handprints, blankets, stuffed animals and pictures. That's also where Cal's Corner fits in.
"Cal's Corner is a wonderful addition to the Labor and Delivery Unit for patients and family who experience a stillbirth, miscarriage or newborn death," Angela says. "We ask families if they'd like to participate, and all have said yes. The books are door-openers and conversation-starters. The book they read to their baby and take home is another keepsake, and so are the books they take home for the siblings."
Angela adds they also roll the cart to the Emergency Department because parents lose children there, too.
Among the books on the cart are "My Sibling Still," by Megan Lacourrege and "Someone Came Before You," by Pat Schwiebert.
"They're beautifully written, illustrated and so simple they can help parents and children through their grief," says Rebecca.
Not all the books in Cal's Corner are about loss. "Some are just favorites, like 'Love You Forever,' by Robert Munsch," says Rebecca. There also are other familiar childhood books in the cart, but the Sharpsteens were careful not to select ones about kids growing up.
Rebecca and Dan aren't seeking donations for Cal's Corner, but they encourage people who are moved by their story to find ways to create their own book cart or donate to another cause that touches the hearts and minds of others.
"The sadness is always there. The loss is always there. But the load becomes a little lighter by doing things to remember Cal and help other families," says Rebecca. "Through the book cart, Cal lives on to help others."