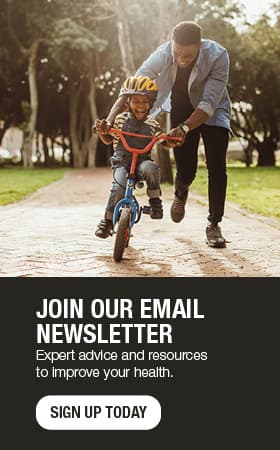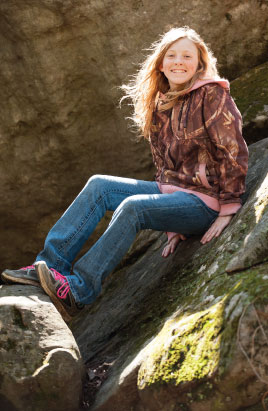 When 12-year-old Abbie Larrington's symptoms started last spring, they were easy enough to explain away. She was exhausted, but it was the end of her basketball season. Why wouldn't she be tired? She had nausea and stomach pains after she'd eat, but some kids at school were having stomach issues, too. Rumor had it there was a virus going around.
But when she stopped wanting to play outside, Abbie's mom, Deb Larrington, knew there was a problem.
"Abbie is normally an outside kid," says Larrington. "She just wasn't herself and hadn't been for several weeks. She'd even started to lose weight. I decided it was time to take her in."
After ruling out lactose intolerance and celiac disease, Abbie's primary care provider ordered blood work. The results revealed a high white blood cell count, prompting the provider to refer Abbie to Jennifer Brumm, M.D., a pediatrician in La Crosse, for further evaluation.
"I was concerned that she had inflammatory bowel disease or an infection," says Dr. Brumm, who ordered more blood work and stool samples. Abbie tested positive for an infection called Clostridium difficile colitis, which was treated with metronidazole, an oral antibiotic. The results also suggested Abbie had Crohn's disease, an inflammatory bowel disease. Abbie was referred to Mayo Clinic, where additional testing confirmed Dr. Brumm's suspicion.
Crohn's disease affects approximately 65 of every 100,000 children and adolescents. There's no cure, but the disease can usually be managed well with medication.
Armed with a diagnosis, Abbie met with Michael Stephens, M.D., a pediatric gastroenterologist in Rochester. Dr. Stephens also sees patients in La Crosse once each month.
"Dr. Stephens is wonderful and does a great job getting kids to talk about embarrassing issues," says Larrington. "He talked us through lots of treatment options."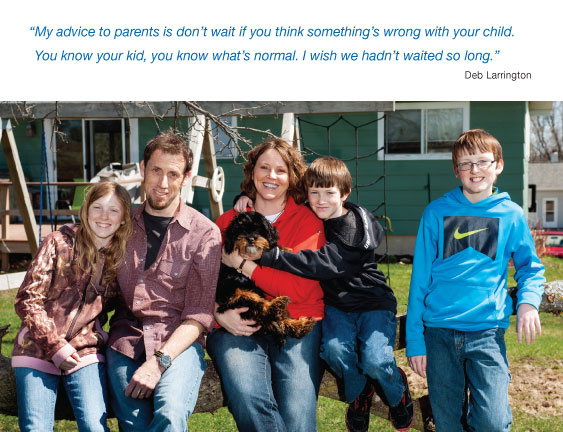 The family decided to try an anti-inflammatory drug that is given intravenously. Not long after Abbie's first treatment, Larrington knew they'd made the right choice.
"She was a different kid within 24 hours," says Larrington. "We got our daughter back."
Abbie continues to have IV treatments every seven to eight weeks, and meets with Dr. Stephens once each quarter. She's able to have her treatments and routine blood work in La Crosse, which Dr. Stephens monitors in Rochester.
"Abbie's lab work was high once and Mayo called right away to check up on her," says Larrington. "They really keep tabs on her."
Abbie's pain and fatigue have disappeared and she's able to eat — and do — what she likes again.
"She's back to being a normal kid. She's back in sports and back to riding her bike and playing outside with her brothers," says Larrington, who says the experience has taught her to trust her instincts. "My advice to parents is don't wait if you think something's wrong with your child. You know your kid, you know what's normal. I wish we hadn't waited so long."
Larrington says she's grateful for the care her daughter has received.
"I'm so thankful to the providers who have helped Abbie get back to her old self again," she says.