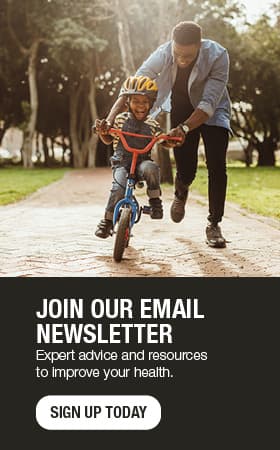 A medical mystery made easier by support along the way
Stacy May's pregnancy seemed completely normal. And May should know — it was her sixth.
"Things were going well," says May, whose children range in age from 1 to 15. "I had normal morning sickness, the baby's growth was normal, and the baby had a good, strong heartbeat."
And when baby Eliana arrived at 1:03 a.m. on May 17, 2013, joining four sisters and a brother, everything seemed normal then, too.
But a week later, something changed. At her one-week well-child visit, Ellie (as her family calls her) hadn't regained the weight she'd lost after birth, as most babies do. When Ellie was weighed at a visit the following week, she'd actually lost weight. The pattern continued for several weeks.
"I kept asking to have more time to keep trying to breast-feed," says May. "I'd breast-fed my other kids and felt that Ellie was eating, in spite of not gaining weight. I thought she just needed a bit more time to grow."
Ellie's doctor, Eric Rotert, M.D., a family medicine physician in Sparta, had agreed to the watch-and-wait approach.
"Dr. Rotert was really good about giving us time," says May. "He had us come in frequently to have Ellie weighed."
At one of these weigh-ins, Dr. Rotert thought Ellie still wasn't gaining enough weight and looked pale. He ran some blood work to test for problems as a precaution.
"When he came back in with the results, I could tell by the look on his face that there was a problem," says May.
Ellie's liver enzymes were elevated to six times the normal level.
"Dr. Rotert went through a list of possible reasons for the elevation," says May. Those included biliary atresia (a potentially life-threatening condition involving bile ducts) and galactosemia (a rare genetic condition that inhibits the body's ability to break down galactose, a sugar in milk).
Dr. Rotert arranged for Ellie to see Deborah Freese, M.D., a pediatric gastroenterologist at Mayo Clinic. At Mayo, Ellie had X-rays, an ultrasound and additional blood work. None of the tests revealed a reason for the elevated enzymes, and Ellie now appears healthy in every way.
"It's like something in her body just switched on or off," says May.
Ellie continues to have frequent weight checks and blood work done. Both measurements are moving in the right direction; her liver enzymes are going down while her weight is going up.
"They've never found a medical explanation for what happened," says May.
Though Ellie's story has a happy ending, the Mays didn't always know that would be the case. Having a team of caregivers on their side who truly cared about them made those uncertain days a bit easier to endure. And knowing that team was communicating behind the scenes was reassuring, too.
"It was clear Dr. Rotert was invested in what happened to Ellie, and that he was in touch with Dr. Freese every step of the way," says May. "The staff at the clinic were wonderful, too. They knew us by name and knew our situation. We've lived in several states and in South Korea, and the care we've received here has been second to none."