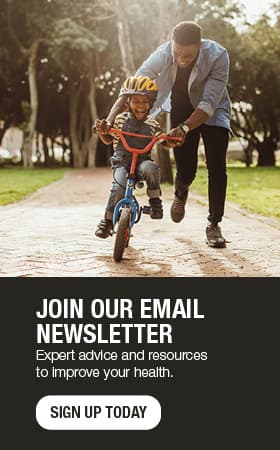 Back on the bandstand: Feeling better with Mayo Clinic Advanced Care at Home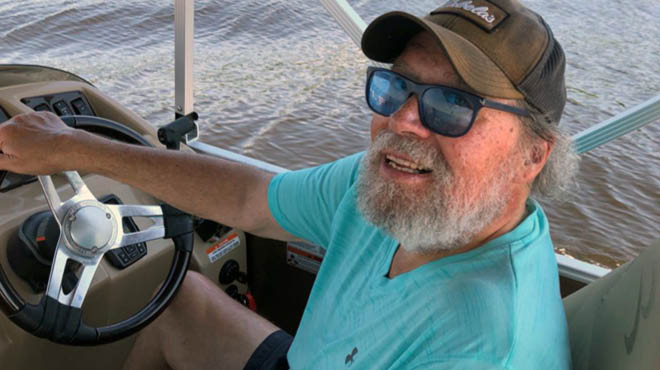 Robert Heintz of Chippewa Falls, Wisconsin, is no stranger to hospitals. Born with a congenital hip defect, he has had several hip surgeries over the years, beginning as a toddler.
When Robert was scheduled for hip revision surgery at Mayo Clinic Health System in Eau Claire, Wisconsin, in 2021, he was happy to learn he could complete his recovery at home with the Mayo Clinic Advanced Care at Home Program.
Hitch in his stride
Robert, 66, who teaches business classes at a university and moonlights as the leader of a popular big band called Troppo, had been using a cane to walk for several years. Dealing with his hip issues was causing pain in other areas, as well.
"I had neck issues, back issues, knee issues," Robert says. "I was wearing a knee brace. It got more painful. It became more difficult to walk." The pain also made it hard to put the energy he liked into teaching, performing and directing. Robert says in early 2021, he decided he could not put off another surgery any longer.
Robert made an appointment with Jonathan Webb, M.D., an orthopedic surgeon at Mayo Clinic Health System in Eau Claire. Dr. Webb determined Robert's previous hip replacement surgery from years prior had failed, and Robert required two operations to fully treat his hip condition.
The first procedure would be to remove his prior implants and place temporary ones. This would be followed by a second more complicated procedure to place permanent implants that would provide Robert with a stable and functional leg to rely on.
Dr. Webb thought Robert would be a good candidate for Mayo Clinic Advanced Care at Home, which was launched at Mayo Clinic Health System in Northwest Wisconsin in 2020. The program is also offered at Mayo Clinic in Arizona and Mayo Clinic in Florida.
The program allows patients with conditions previously managed in a hospital to have the option to transition to a home setting. There they can receive compassionate, high-quality care and recovery services ― both in person and virtual. While the program at Mayo Clinic Health System in Northwest Wisconsin initially was offered to medical patients, it recently expanded to include surgical patients.
"It helps to be in a familiar space during recovery," says Dr. Webb. "If we can provide the care that people need after surgery and allow them to be in the space that they know with the people they love, I think it does a lot for their psyche and helps them to get through the toughness of a big operation."
"I was thinking, 'This is fantastic,'" Robert says. "I had good experiences at Mayo. We can continue this. And I don't have to be in the hospital, but I get most of the benefits of it. I thought, 'Yeah, absolutely.'"
Dr. Webb says that while the COVID-19 pandemic was not the reason the program was created, providing care in patients' homes has helped free up resources needed for other patients.
"We have had limited bed space during the recent surges," Dr. Webb says. "Utilizing a patient's home to provide the acute care they need right after surgery in a way that is safe for them has been a great resource for us."
Robert spent one night in the hospital, but many patients can go home from the recovery room.
Home sweet home
Robert says he was impressed with the seamless process of being transported home and having the necessary equipment set up.
"That's what was really impressive and enjoyable," Robert says. "From the time I left the hospital, there were no worries, no drops in the system. In about an hour, I was home, and set up with all the equipment and pill dispensary."
Robert says he was happy to be home with his wife, Melyssa Heintz.
"My family was excited. My dogs were excited to see me home," Robert says. "Getting back to a comfortable environment, sleeping in my own bed, being able to have visitors, that's what it was about for me."
Robert says he felt well taken care of during his time in the program. The first two days were the acute phase of care. That's when his care team visited his home daily. The latter part of his care was the restorative phase. That's when he received multiple visits per week to check the wound, draw blood and perform physical therapy. He also received check-ins twice daily by video.
"I felt safe at home," Robert says. "I could immediately talk to somebody 24 hours a day on video by iPad or by phone. After we had tornadoes in the area one night, one of the nurses at the command center in Florida called to make sure we were OK."
Paramedics are also on call to respond in case of an emergency.
Back on the bandstand
Robert completed his four-week Mayo Clinic Advanced Care at Home Program shortly before Christmas 2021, and he was back in front of the big band for their annual New Year's Eve dance. He was in a wheelchair for the performance, but he looks forward to standing up soon, directing the band and playing trumpet solos.
"I'm feeling great," Robert says. "I'm very hopeful that I can move to the next phase. Everything is going well."
Participation in Mayo Clinic Advanced Care at Home is voluntary for eligible patients. Dr. Webb says it is a decision a patient should make with their care team.
"Getting feedback from patients like Robert has influenced me to discuss this with more patients," Dr. Webb says. "I think this will only continue to grow."