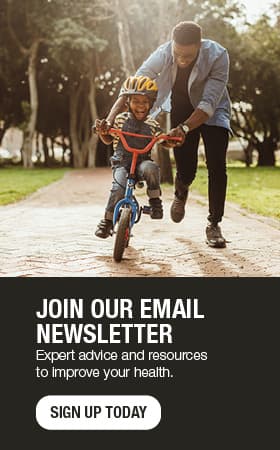 Trust your gut: What you need to know about digestive health
Everyone experiences mild or short-lived digestive problems from time to time. Stomachaches, gas and heartburn can be uncomfortable, but these conditions are usually not concerning. However, if symptoms keep you from enjoying life or if you experience bodily red flags, such as bloating, diarrhea and bleeding, it may be time to see a health care provider.
In a webinar, Sebastian Strobel, M.D., and Daisy Batista, M.D. ― both Mayo Clinic Health System gastroenterologists ― discussed the digestive tract, what the gut might be saying and self-care options for common digestive concerns.
Watch the webinar:
Here are a few highlights from the webinar, which was followed by a Q&A session:
Dysphagia is difficulty swallowing and the sensation of food getting stuck. It usually starts with solids and then liquids, and then it progresses. With this, the two muscle layers of the esophagus don't work in a coordinated way, making it difficult to swallow.
Eosinophilic esophagitis is an autoimmune condition where an inflammatory response leads to difficulty swallowing. Certain foods or allergens in the environment lead to scarring and fibrosis of the esophagus, making it stiff and unable to move food.
Scarring and fibrosis of the esophagus, narrowing of the esophagus because of uncontrolled reflux over the years, and esophageal cancer also can block the ability to swallow.
Reflux is a common disease. Acid reflux occurs when acid flows from the stomach up the food pipe, which is normal if it doesn't happen too often. Gastroesophageal reflux disease, also known as GERD, is when you have heartburn more than two or more times per week. This is not considered normal. Some lifestyle changes, such as weight loss, eating small meals and not eating just before you go to bed, can help reduce symptoms of gastroesophageal reflux disease.
You should get evaluated if you can't swallow anymore, food gets stuck or you're losing weight unintentionally.
Barrett's esophagus happens after having acid flow into your food pipe for years. Stomach acid is corrosive to your food pipe and lining of the mouth, and changes these liners, which can bring a higher risk for developing cancer of the swallowing tube.
Peptic ulcer disease is when there is a break in the gastrointestinal lining or mucosa of the stomach and duodenum that penetrates through the muscular layer. Symptoms can range from very mild to severe gastric pain or burning bleeding ulcers that can cause black or tarlike stools over time.
Bloating and flatulence is common. You can avoid gas-producing food such as cabbage, legumes, onions, broccoli, wheat and potatoes, or you can try over-the-counter medications. If you're losing weight, have blood in your stool, have a fever, are vomiting, or your abdomen is tender from the bloating, those are red flags that need immediate evaluation.
Diarrhea is common and can be caused by a variety of issues, such as celiac disease, food intolerance, parasites, bacteria or viruses.
Celiac disease is a sensitivity to gluten that leads to malabsorption and diarrhea. Symptoms include diarrhea, iron deficiency, anemia, other vitamin deficiencies and weight loss.
Inflammatory bowel disease is a spectrum of autoimmune disorders that includes Crohn's disease and ulcerative colitis. Crohn's disease can affect you anywhere from the mouth to the anus, and ulcerative colitis only affects the colon. Inflammatory bowel disease is a combination of genetic predisposition and environmental triggers that set off the immune system to start attacking the body. It usually takes a combination of tests to determine if you have inflammatory bowel disease.
The pancreas helps digest and absorb food, and makes insulin and other hormones that help control blood sugars and control the digestive system. Pancreatitis, or inflammation of the pancreas; pancreatic cysts; and pancreatic cancer are common issues that affect the pancreas.
Rectal bleeding can be cause by many things. Minor issues include hemorrhoids and anal fissures that may result in blood on the tissue paper when you wipe after having a bowel movement. More serious issues include inflammatory bowel disease, a diverticular bleed or colorectal cancer.
Colorectal cancer is one of the most commonly diagnosed cancers in the U.S. and the leading cause of cancer. It can range from a small growth in the colon to cancer that penetrates through the entire lining of the colon and goes to other organs like the liver or lungs. Early warning signs that you should not ignore include rectal bleeding; a stool change, such as pencil-thin stools or a narrowing of the stools; cramping or abdominal pain as the colon passes stool; growing weakness and fatigue; and unintentional weight loss.
If you are struggling with any of these conditions, talk with your primary care provider.
Drs. Strobel and Batista continued with a discussion about digestive health, providing detail about each of the conditions noted above.