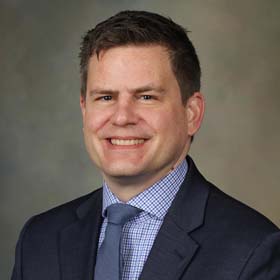 Learn more about me:
Appointment Information
La Crosse, WI
Hospital
700 West Ave. S., La Crosse, WI 54601

Appointments
Sparta, WI
Hospital and Clinic
310 W. Main St., Sparta, WI 54656

Appointments
Provider's Bio
I treat every patient like I want my family members to be treated. My patients become my partners, that is why it is crucial for me to help them understand the disease so together we can come up with the treatment that works best for them. Therefore, I take time and effort to explain everything to the patient. My goal is to always provide the best and most evidence-based medicine and do what is best for my patient.
You can expect transparency, honesty and accountability from me. You are not just a "gallbladder" for me, but a real person with a name and a story. A real person with feelings and emotions, someone who deserves the best care available.
My personal interests include outdoor sports, cycling and family.
Training & Credentials
Medical School
Eberhard-Karls-University
Ludwig-Maximilian-University
Internship
Internal Medicine, Dartmouth-Hitchcock Medical Center
Residency
Internal Medicine, Dartmouth-Hitchcock Medical Center
Fellowships
Gastroenterology, University of Miami, Miller School of Medicine
Advanced Endoscopy, Medical College of Wisconsin-Milwaukee
Memberships
American College of Gastroenterology (ACG)
American Gastroenterology Association (AGA)
American Society for Gastrointestinal Endoscopy (ASGE)
German Society for Digestive Disorders, Deutsche Gesellschaft für Verdauungs- und Stoffwechselkrankheiten (DGVS)
Japan Gastroenterological Endoscopy Society
Special Interests
Advanced endoscopic imaging modalities
Barrett's esophagus
Endoscopic retrograde cholangiopancreatography (ERCP)
Endoscopic ultrasound (EUS)
Endoscopic mucosal resection (EMR) and endoscopic submucosal dissection (ESD) of large polyps
Enteral stenting and endo suturing
Full thickness resection (FTRD)
Gastroesophageal reflux disease (GERD)
Pancreaticobiliary disorders
Pseudocyst drainage
Find More Providers