Posted By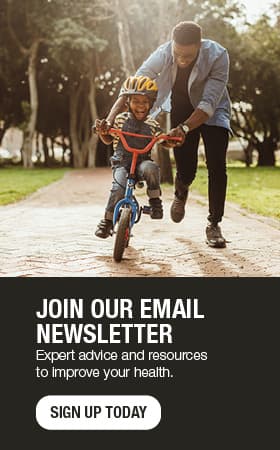 Tips for keeping summer produce fresh and flavorful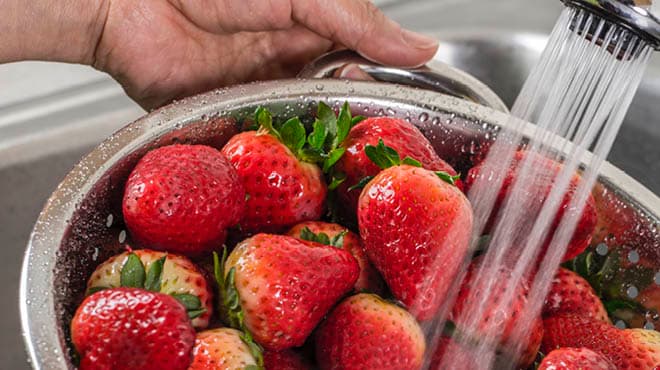 During peak growing months, summer's bounty is bursting in gardens, farmers markets, roadside stands and grocery stores. Now's the time to savor this abundance of fresh fruits and vegetables, enjoy old favorites and try some new-to-you produce.
Check out these tips for storing and washing fruits and vegetables properly to help them stay fresh, flavorful and retain their nutrients:
Storing produce
Properly storing produce will help preserve its texture and flavor, and extend its shelf life. As a guideline, wait to wash produce until you're ready to use it.
Utilize these storage tips:
Apples
Leave at room temperature if you'll be eating them within a few days. Otherwise, store apples in a perforated plastic bag in the coldest part of your refrigerator.
Asparagus
Although best if cooked the day it's purchased, keep asparagus in the refrigerator for up to five days. Wrap the bottoms of the stalks in a damp paper towel, place the bunch in a paper bag and store in the coldest part of the refrigerator.
Berries and cherries
Remove the fruit from its container, pick through the berries or cherries and remove any mushy or damaged fruit. Line the container with paper towels, gently refill it with fruit and refrigerate for up to a week.
Corn
Store in the refrigerator with the husks on so the ears last a week or longer.
Cucumbers and bell peppers
Refrigerate unwashed cucumbers in a plastic bag in the refrigerator for up to a week. Put peppers in a paper bag in the coldest part of your refrigerator for up to five days.
Lettuce and leafy greens
Store salad leaves in a resealable plastic bag in the refrigerator for no more than two days. Leafy greens like kale, spinach and chard are stored best in a loosely closed plastic bag.
Melons
Leave whole, uncut melons out of the refrigerator for up to a week. Cover the cut flesh of a leftover portion with a silicone bowl cover or put slices in an airtight container. Store in the refrigerator.
Onions and garlic
Store in a cool, dry and well-ventilated place so onions will last about month. Put fresh garlic in an open container away from other foods, and keep it in a cool, dark place for up to eight weeks. Individual cloves will keep for three to 10 days.
Potatoes
Don't store potatoes in the refrigerator. Instead, keep them in a cool, dry, dark place. Before using, cut away any green spots and eyes.
Root vegetables
Keep carrots in a sealed plastic bag, and store them in the refrigerator's vegetable bin. If they become limp, refresh them in a bowl of ice water. Loosely wrap parsnips, and keep them in the produce drawer of the refrigerator for up to three weeks.
Stone fruits
Store plums, nectarines and peaches at room temperature. If you won't be eating them for a few days, put them in the refrigerator for up to five days.
Tomatoes
Keep tomatoes out of the refrigerator because they'll lose flavor and turn mealy. Leave on the counter out of direct sun for up to five days.
Zucchini and summer squashes
Store whole squashes in the refrigerator's crisper drawer for up to two weeks. Stored in a resealable plastic bag, they'll last even longer.
Washing produce
Don't skip this essential step. Washing is crucial for food safety because it removes dirt and pathogens like E. coli, listeria and salmonella that can cause food-borne illnesses. It's especially important for raw fruits and vegetables as the heat of cooking typically destroys these harmful pathogens.
Produce from your garden or farmers market will need to be cleaned more thoroughly. While produce from the supermarket has been commercially washed, it's still a good idea to give it a quick rinse.
Remove any stickers before washing because they will stick more firmly once they become wet. If you use a soft-bristled or silicone brush to help remove dirt, reserve it only for fruits and vegetables.
All produce should be washed under cool running water to prevent pathogens from entering the pores of the fruits and vegetables and rinse away dirt. Don't let produce soak in the water it's been washed in.
There's no need to use soap, vinegar or produce washes. Plain water does the job.
Here's how to wash a variety of vegetables:
Beans and peas
Wash in a colander. Gently stir during rinsing to loosen any dirt.
Cruciferous vegetables
Cut or chop broccoli, cauliflower or broccolini while dry, then place in a strainer and rinse.
Garlic and onions
Wash before cutting to avoid carrying pathogens from the skin into the inner portions. Use a soft-bristled produce brush to remove any loose dirt.
Leafy greens
Fill a large bowl or salad spinner with cool water. Submerge the leaves in the water and gently swish them around, loosening any dirt or grit. Wash in batches, if needed, and change the water between each batch. Remove from the water, and place on single layers of paper towel to dry or spin them dry in a salad spinner. If you're buying bagged or chopped greens at the supermarket, there's no need to wash them again if they are labeled prewashed.
Mushrooms
Wash just before you need them so they don't get soggy. Cut off the stems, dunk the cap in a bowl of water and gently swish until clean. Pat dry with a clean cloth or paper towel.
Root vegetables
Scrub carrots, potatoes and radishes with a produce brush under cool running water until all dirt is removed.
Tomatoes and eggplants
Wash before cutting to prevent them from absorbing water and becoming mushy. You also can use a damp cloth to remove any grit or dirt.
Zucchini and summer squashes
Wash using a brush to remove any soil.
Explore ideas for using summer's bounty from your garden or local markets.
Kjersten Nett is a dietitian in Nutrition in Albert Lea and Austin, Minnesota.