Thyroid disease diminishes quality of life
Much like our vehicles have engines, our bodies have similar parts that help us function. The heart and brain are the big anatomy regulators, but the thyroid is also a crucial driver of bodily operation. And when your thyroid experiences issues, your whole body starts to feel out of sorts — and your quality of life suffers.
Knowing how your thyroid works and what signs indicate something is amiss will help you get the care you need and enhance your livelihood.
Q. What is a thyroid?
A. A thyroid is a gland at the base of the neck. This important part of your body produces hormones that regulate blood pressure, body temperature, heart rate and weight.
Q. What are potential thyroid problems?
A. There are four main thyroid afflictions: hyperthyroidism, hypothyroidism, thyroid cancer and thyroid nodules.
Hyperthyroidism is the case of an overactive thyroid.
Hypothyroidism occurs when the thyroid is underactive.
Thyroid cancer refers to a malignancy in the cells of the thyroid.
Thyroid nodules are growths on the thyroid.
While all of these conditions can be serious, each has its own symptoms and distinctions.
Q. What are the symptoms of thyroid problems? How are they treated?
A. As stated before, each thyroid problem has its own nuances. Here are common symptoms to look for with each condition:
Hyperthyroidism. Weight loss, rapid heartbeat, anxiety, fatigue, trouble sleeping, tremors and sweating.
Hypothyroidism. Thinning hair, weight gain, fatigue, muscle weakness, joint pain, depression and impaired memory.
Thyroid cancer. A lump on your neck, difficulty swallowing, swollen lymph nodes and changes in your voice.
Thyroid nodules. In many cases, nodules don't produce symptoms. In other cases, nodules become large enough that you can see and/or feel them. Some nodules are cancerous, although most are benign.
Contact your health care team if you experience these symptoms or have other concerns about potential thyroid health.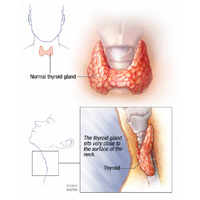 Treatment options for these conditions include:
Hyperthyroidism. Multiple treatments are available for hyperthyroidism. Treatments include radioactive iodine, anti-thyroid medications, beta blockers or surgery. It's important to discuss options with your health care provider to determine what's best for you.
Hypothyroidism. The most common treatment for hypothyroidism is an oral medication called synthetic thyroid hormone levothyroxine. After taking this medication, people see improvements with fatigue and even weight management. Finding the right dosage is key, as all patients require different care plans.
Thyroid cancer. Treatment for thyroid cancer is dependent on the type, size and stage of the tumor. Options include surgery — which may consist of partial or complete removal of the thyroid — radioactive iodine, external radiation therapy, chemotherapy or targeted drug therapy.
Thyroid nodules. There are a few options for treating noncancerous nodules. Watch and wait, conduct surgery for large benign nodules or use thyroid suppression therapy.
The thyroid is so important to your well-being. It's a gland that regulates vital functions of your body and influences not only your health, but the quality of your life. So if there's an issue, the faster it's addressed, the better you'll feel.
Contact your health care team if you have concerns about your thyroid.
Topics in this Post
Comments (9)
CAROL
Saturday, January 16, 2016
My 36 yr old daughter has been on Levothyroxine for 6 years and is extremely overweight and is experiencing extreme anxiety. i am worried about the meds and her health? Thank you for any ideas.
Site Administrator
Monday, July 6, 2015
Site Administrator
Monday, July 6, 2015
Hi Cathy. We are unable to diagnose or provide medical advice on this platform. However, here is a link to the appointment numbers for our various locations: http://www.mayoclinic.org/appointments.
Cathy Sunderlin
Wednesday, May 13, 2015
Hello, I have been on synthroid for over 5 years now. My thyroid was originally placed on medication as I was a non-hodgekins and breast cancer survivor and had received chemo and radiation. I since had breast again 5 years ago and have been on Arimidex. I have had thyroid sonograms annually, I initially had nodules that were biopsied and were all begnin maybe 6 years ago. My recent thyroid sono showed one nodule completely gone yet one was slightly larger and I had two new small ones, which is suggested a fine needle biopsy. As a 3 time healthy cancer survivor I really need some input. I am from Yorkville, NY, and should I come to the mayo thyroid clinic, as you can well imagine I am 57 years old been thru the mill and can't mess around. My appointment for a needle biopsy is 5/20/15, could you direct me as to what I should consider, how to go about your clinic?, cost etc. thank you
Kel E.
Thursday, April 2, 2015
I am curious about TPOab test results. I had the TPOab test done and 81.6 IntU/ml was my result. I also had other Thyroid tests completed but other tests show no abnormalities even though this test came back 'high.' Any thoughts?
Site Administrator
Thursday, February 12, 2015
Site Administrator
Thursday, February 12, 2015
Kari Haler
Monday, February 9, 2015
I have high calcium and will be having one of my parathyroid glands removed. I keep reading that hyperthyroidism causes weight loss and I have not lost a pound and remain overweight. What would the reason for that be and is there a difference between hyperthyroidism and hyper parathyroidism?
Kathleen Marsack
Monday, February 9, 2015
Have had many T-3, T-4, THS. Every time Dr.'s tell me I'm within limits. BUT I have all the list of problems listed above for hypothyroidism. So sick & tired of feeling bad. How can I get help?