We are experiencing high call volumes:
Use your account on the Mayo Clinic app or patient portal to check symptoms, get care recommendations and make an appointment.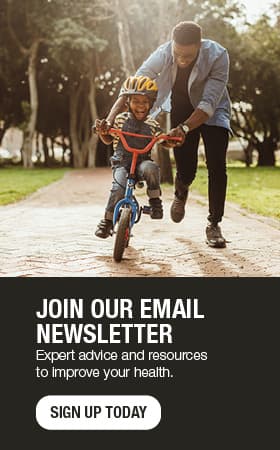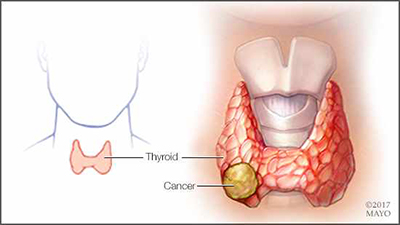 Thyroid cancer arises from the thyroid gland — a butterfly-shaped organ located on the front of the neck whose main function is producing thyroid hormones to regulate metabolism. Thyroid cancer is the most rapidly increasing cancer in U.S., mainly due to advancements in imaging techniques that help detect smaller lesions. Overall, the prognosis — or the projected course of the disease — is good. Despite the increase in incidence, the death rate has been stable over many years.
Types of thyroid cancers
There are three types of thyroid cancers:
Differentiated thyroid cancers (papillary, follicular and Hurthle cell).

Papillary thyroid cancer (PTC), being 80 percent of all cases, is the most common type of thyroid cancer. It's a slow-growing cancer, and except certain subtypes, the overall prognosis is excellent. PTC can spread to lymph nodes in the neck, but even in that case, it typically responds well to treatment. Follicular thyroid cancer constitutes about 10 percent of thyroid cancers and also has a favorable prognosis. However, the risk of spreading to the lungs and bones is higher than PTC. Hurthle cell cancer constitutes 3 percent of thyroid cancers. Although most patients do well, the prognosis can change based on the extent of disease at the time of diagnosis.

Medullary thyroid cancer.

This form of thyroid cancer arises from parafollicular C cells of the thyroid gland and constitutes about 4 percent of thyroid cancers. This distinct form of thyroid cancer can be familial and associated with certain genetic endocrine syndromes. If diagnosed before the cancer spreads, treatment effectiveness is higher.

Anaplastic thyroid cancer.

This is the most aggressive form of thyroid cancer and accounts for about 1 percent of thyroid cancers. It's a rapid-growing form of cancer with poor response to treatment.
Rarely, lymphoma, sarcoma and other tumors can be found in the thyroid as well.
Risk Factors
Family history of thyroid cancer, some genetic mutations, previous radiation exposure and iodine deficiency are among the risk factors for thyroid cancer. Additionally, it's more prevalent among females, as 75 percent of thyroid cancer patients are female.
Symptoms
Most thyroid cancers don't cause symptoms aside from a lump on the neck. Most commonly, providers discover lumps during exams or incidentally on CT or ultrasound imaging of the neck. Sometimes people find lumps on their own. If the mass is large enough, it can cause symptoms, including swallowing and breathing problems, hoarseness and a cough.
Diagnosis
After a lump (nodule) is detected, a fine needle aspiration (FNA) biopsy is the next diagnostic step. In this biopsy procedure, a thin needle is introduced into the lump to collect cells to view under a microscope. FNA is well-tolerated procedure and is generally done with guidance of ultrasound. Based on FNA results, about 80 percent of thyroid nodules are non-cancerous (benign), whereas less than 10 percent are cancerous (malignant) and the rest are generally indeterminate. Repeat biopsy or surgery can be considered for indeterminate results. Additional images like ultrasound, a CT scan, an MRI or a PET scan can be considered to see the extent of the disease once the diagnosis is made.
Treatment
The thyroid cancer treatment generally involves surgery, but treatment is individualized based on the person. In addition to surgery, radioactive iodine treatment, external beam radiation and chemotherapy are among other treatment options based on the type and stage of the cancer.
With surgery, generally most all of thyroid gland — sometimes half the gland, if a small-sized lump is only on one side — and lymph nodes can be removed. Thyroid hormone replacement treatment would be needed to replace the thyroid function and keep the Thyroid Stimulation Hormone (TSH) at a certain level to prevent growth of remaining cells.
Intermediate to high-risk differentiated thyroid cancer patients may benefit from radioactive iodine to further decrease the risk of recurrence.
Medullary thyroid cancer is generally treated with surgery. If the cancer is spreading, chemotherapy should be considered. If genetic mutation for the "RET" gene is detected, screening family members would be helpful for early diagnosis and treatment of the condition.
Anaplastic thyroid cancer is generally treated with chemo and radiation treatment. Surgery can be considered in certain cases.
After initial treatment, neck imaging and thyroid tumor marker levels are checked periodically to monitor for recurrence and to decide if additional treatment is needed.
Sakine Sever, M.D., is a Mayo Clinic Health System in Mankato endocrinologist.
---
For the safety of our patients, staff and visitors, Mayo Clinic has strict masking policies in place. Anyone shown without a mask was either recorded prior to COVID-19 or recorded in a non-patient care area where social distancing and other safety protocols were followed.
Topics in this Post