Posted By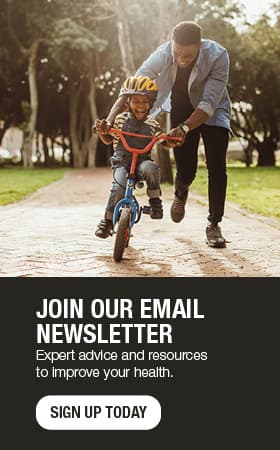 Virtual care for people with cancer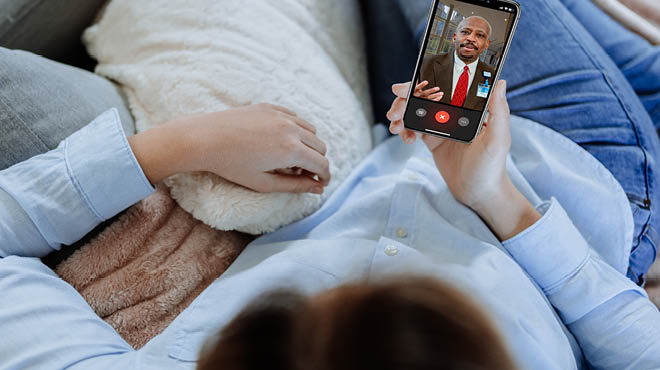 The internet, COVID-19 pandemic and increased access to smartphones and laptops has changed the way people shop, bank, travel and work. It also has changed how people manage their health care.
Telehealth, including telemedicine and virtual visits, uses digital information and communication technologies to access health care services remotely and manage your health care. It's often thought of as remote communication or monitoring between a health care team and the patient or caregiver.
Asynchronous and synchronous communication
Some interactions are asynchronous, meaning communication that doesn't happen at the same time. For example, a patient sends a message through an online portal and the health care team responds at a different time. Or a patient completing an online survey about symptoms to update the health care team.
Remote monitoring, which is asynchronous technology that collects and reports temperature, weight and other vital signs, allows the health care team to check a patient's status without a visit to a health care facility. Any identified problems are usually addressed quickly.
In contrast to these examples are synchronous interactions, in which the patient and health care team communicate in real time. A telephone conversation is synchronous communication and an important part of a health care journey. Virtual visits use online technology to allow the patient and team to see and hear each other in real time. These synchronous communication telehealth options extend health care to meet patient needs.
Telehealth options are available for general health care, acute needs or specific conditions. Virtual visits became common because of the needs of the COVID-19 pandemic. Two years later, oncology professionals recommend telehealth interactions when appropriate for the patient or the caregiving team.
Telehealth and cancer care
For many people with cancer or malignant diagnosis, telehealth has become an important part of their care. It may be appropriate for medical oncology, hematology, consultations, second opinion consultations and surgical consultations.
Many patients use portal online messages throughout their cancer journeys to communicate medication side effects, changes in condition or send questions to the health care team. Other common telehealth options during cancer care are virtual visits and telephone conversations. These extend care and options for patients, regardless of geography. Occasionally, remote monitoring is part of cancer treatment plans as well.
Some appointments and treatments cannot be conducted virtually. The health care team recommends in-person or virtual visits based on the needs and treatment plan for each patient.
Telehealth benefits
There are multiple benefits of telehealth for all patients, but especially for people with a chronic or complex health condition, such as cancer, including:
Greater access
Telehealth can bring cancer experts to people who live in remote communities. It can provide people with choices to meet with specialists who don't live where they do, especially when they are seeking a second opinion on a complex cancer diagnosis. Patients who don't have good access to devices or internet may be able to participate in virtual appointments by using cancer center clinic resources and assistance.
Reduced travel time and expense
Cancer care requires many appointments, and patients often travel significant distances to receive the care they need. Some appointments, especially consultations or general checkups, can be completed virtually. This reduces travel time and expense for the patient and family. Not every appointment can be conducted using telehealth but saving travel expenses a few times can make a significant difference.
Larger support network
Most of the time, patients who receive care in Oncology attend visits with a family member or other support person. Virtual visits allow remote family members to participate in important conversations, ask questions and lend support, regardless if they live across the street or across the country.
Improved energy
Gearing up to travel to and from an appointment can be a challenge, especially if a person is experiencing severe fatigue due to cancer treatment. Participating in virtual visits can be less draining and preserves energy for recovery.
Improved safety
Hospitals and clinics are safe to visit and receive care. However, traveling to and from appointments does increase a person's exposure to infectious diseases in the community, such as influenza and COVID-19. Mobility and falls are concerns for some people. Remaining at home to receive care can keep the person safe.
There are limitations to telehealth. Sometimes technology doesn't work as well as designed. It's important to have a plan with your health care team to call on the telephone if there is an issue connecting to a virtual visit.
Some people have no or limited internet access and may have to travel to a local clinic to participate in a virtual visit with specialized providers at other sites. Others don't have or don't feel confident using a mobile device or may need to have an exam done in person. Telehealth may not be appropriate for these patients. However, it's an important tool to have that can extend options for care.
Amye Tevaarwerk, M.D., is an oncologist in La Crosse, Wisconsin, and Rochester, Minnesota.