Posted By
Spring into better health: The pantry edition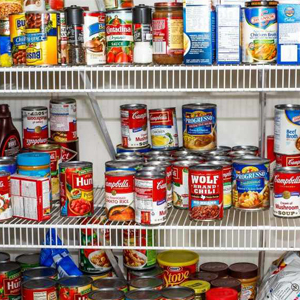 With spring often comes spring cleaning. You may have a chance to clean your house inside and out. However, what about your pantry? How often do you clean your pantry? If you're trying to lose weight or adopt a healthy lifestyle, consider these questions.
There are many reasons to consider cleaning out your pantry. You might have set a New Year's resolution to start eating healthier, but still have old temptations waiting for you on the shelf. Removing those temptations from your grasp will help you stay on track with your goals.
Throw away old, unhealthy enticements and replace with new, healthy options, such as:
Low-sodium pretzels
Hummus
Light popcorn
Baked chips
Low-sodium nuts, such as peanuts, almonds or walnuts
Canned salmon tuna
Canned smoked herring
Whole-wheat crackers
Extra-virgin olive oil
Quinoa
Low-sodium beans
Kosher salt
Low-sodium chicken or beef broth
Keep in mind herbs and spices can expire and can lose their potency, causing your favorite recipes to have different tastes. Spices and herbs can also be expensive, but you can grow them yourself — even if you do not have a large space to do it.
You can plant herbs and spices in small boxes indoors near windows or outside on a patio. You can create a small box or leftover pots with soil, and use that to plant the herbs without worrying about weeds taking over. Any vessel will work, so green thumbs can get creative and use what works best.
You can use fresh herbs and spices to make any dish more delightful. You can also dehydrate the herbs and spices for use in the winter months. The aroma of fresh basil, oregano or chives growing near where you're cooking will help inspire creative new recipes, as well.
Amanda Leisenheimer is a registered and licensed dietitian at Mayo Clinic Health System in Lake City.
Like this article? Read about spring cleaning in your freezer and refrigerator.
---
For the safety of our patients, staff and visitors, Mayo Clinic has strict masking policies in place. Anyone shown without a mask was either recorded prior to COVID-19 or recorded in a non-patient care area where social distancing and other safety protocols were followed.
Topics in this Post