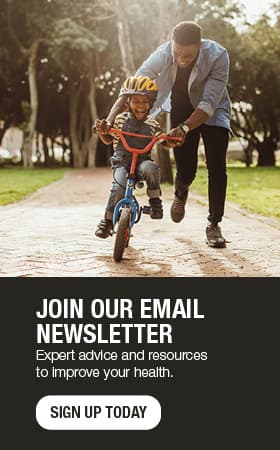 Radishes: Big flavor in a small package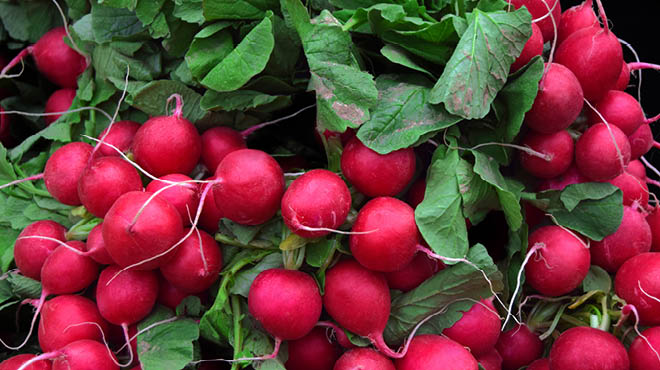 The next time you're in your grocery store produce section or at your local farmer's market, check out the radishes. They are available in many colors and shapes. If you want more variety, they are easy to grow in your garden.
Radishes are part of the Brassica plant family. These cruciferous vegetables are full of antioxidants that alter the way cancer cells reproduce so they may reduce cancer risk.
For their size, radishes are a good source of vitamin C, an antioxidant that may fight cellular damage that can lead to cancer and other diseases. They are full of fiber but low in calories. For big flavor and big nutrition, try adding some radishes to your menu throughout the year.
Radishes can be eaten raw, roasted, braised or pickled. Spring radishes may be best when eaten raw, sliced on top of a green salad, grated in a slaw, or dipped in a bit of salt or other dressing. They can be enjoyed year-round when roasted, braised or pickled. If you find radishes to be too spicy, you may find that roasting or braising them mellows their heat.
For a simple roasted radish dish, trim the top and stem ends, and rinse with water. After patting dry, toss sliced radishes with salt, pepper and 1 tablespoon of olive oil. Arrange them, cut side down, on a heavy, dark sheet pan or cast-iron skillet, and roast at 450 degrees F for 10 to 12 minutes. The white sides should brown a little but remain firm. A sprinkle of finely chopped garlic or parsley before serving takes the flavor up a notch.
Give these other recipes a try:
RADISHES WITH DUKKAH
Servings: 12
Ingredients
¼ cup pistachios
1 tablespoon pine nuts
1 tablespoon sesame seeds
1 teaspoon coriander seeds
1 teaspoon cumin seeds
1 teaspoon kosher salt
½ teaspoon freshly ground black pepper
Radishes (with tops, if possible, for easier dipping)
Olive oil (for dipping)
Preheat oven to 350 degrees F. Place pistachios and pine nuts on a rimmed baking sheet and toast for 5 minutes. Add sesame seeds, coriander seeds and cumin seeds, and toast until nuts are golden brown and spices are fragrant, about 5 minutes. Transfer to another pan to cool. Coarsely grind in a blender or food processor with salt and pepper. Serve radishes with olive and dukkah for dipping.
BRAISED RADISHES
Servings: 6
Ingredients
1 tablespoon butter
2 large shallots, finely sliced
1 pound radishes, about 2 bunches, tops trimmed and radishes sliced in half
2 tablespoons balsamic vinegar
1 tablespoon sugar
½ cup vegetable broth
½ cup finely chopped Italian parsley
¼ teaspoon freshly ground black pepper
Melt the butter over medium-high heat in a wide skillet. Place radishes cut side down in the pan and cook undisturbed for 2–3 minutes or until bottoms begin to brown. Add the shallots and cook, stirring, for another minute. Add the balsamic vinegar and the broth. The liquid should just come up around the sides of the radishes. Cover, lower heat and simmer for 8–10 minutes or until the radishes are tender. Remove the lid and continue to simmer for 3–4 minutes or until the liquid has reduced into a syrupy sauce. Add the parsley and stir to wilt. Season with pepper and serve.
Susan Leifer is a dietitian in La Crosse, Wisconsin.