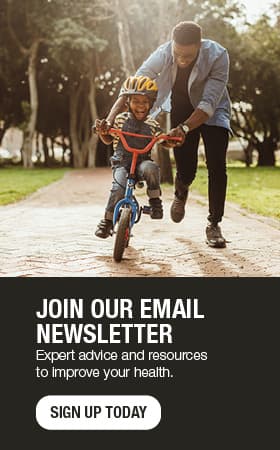 Overcoming adverse childhood experiences
Adverse childhood experiences, or ACEs, are negative events in a child's life that can have lasting effects on health and well-being. The phrase came about during the CDC-Kaiser Permanente Adverse Childhood Experiences Study, first published in 1998. The study looked at how childhood trauma affects long-term health.
In situations of prolonged childhood trauma, a child's brain and body will produce an overload of stress hormones that can harm the function and structure of the brain. Because children's brains are developing at a rapid pace, this can be particularly harmful to them, changing how they will learn, respond to stress and make decisions for the rest of their life. Childhood trauma can lead to the adult onset of chronic diseases, such as heart disease, depression, drug abuse, violence and being a victim of violence.
ACES EXAMPLES
Examples of ACEs include:
Experiencing parental divorce or separation
Having a family member who is incarcerated
Living with a family member who is addicted to alcohol or other substances
Living with a family member who is depressed or has other mental illnesses
Experiencing physical and emotional neglect
Experiencing physical, emotional and sexual abuse
Witnessing a mother being abused
ACEs occur more commonly than you'd expect. In Wisconsin, more than half of all adults have experienced one adverse childhood experience in their past. The more ACEs an individual has experienced, the higher their risk climbs for lasting health impacts.
COMBATING ACES
While ACEs are related to health and behaviors later in life, they are not a guarantee of anything. The negative health effects of ACEs can be tempered when people have a strong support system and the skills to successfully cope with life's challenges. This coping ability is called resilience.
There are multiple ways to build and strengthen a child's resilience and help lessen the consequences of ACEs. This support could include:
Caregiver knowledge and application of positive parenting skills
Children's social and emotional health
Close relationships with competent caregivers or other caring adults
Communities that support health and development
Concrete support for parents and families
Having a sense of purpose
Individual problem-solving skills and self-regulation abilities
Parental resilience
Social connections
These kinds of support tactics help a child feel safe more quickly after experiencing ACEs and help to neutralize the impact. It's particularly important for caregivers to help create strong, protective relationships for children that can allow them to stay strong, even when facing adversity. If the child's protective networks are in good working order, development can flourish even in the face of severe adversity. If these systems are not strong, either before or after the ACE, then the risk for developmental problems is much greater.
A FRAMEWORK FOR HOPE
The framework that ACEs provide helps us look at health in a new way. Understanding risk factors provides a new way to approach people in our lives who may benefit from extra support. It is important for everyone to know that no matter the experience, there is always hope for a positive outcome. Risk does not define destiny.
Get more information from these resources: