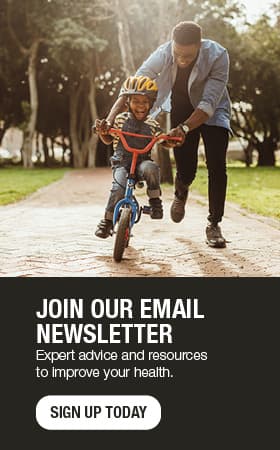 Whether they're pounding, pulsing or piercing, headaches are a pain. Layne Moore, M.D., a neurologist at Mayo Clinic Health System in Faribault and Owatonna, Minnesota, shares tips for taming — and possibly preventing — common types of headaches.
Know your headache type
"Not all headaches are the same," Dr. Moore says. "Finding the right treatment begins with knowing the type of headache you have."
The most common headache types are:
Tension
These headaches cause dull and achy pain. They may include a sensation of tightness or pressure across your forehead, or on the sides and back of your head.
Migraine
These headaches cause severe, throbbing pain, usually on one side of the head. They're often accompanied by nausea or vomiting, and may last up to three days.
Cluster
These headaches are sudden, severe and repetitive. The pain often is focused around one eye. Cluster headaches generally come at the same time every day for a period of time, usually from several weeks to several months. Then, they stop for a period of time — months or even years — before striking again.
Icepick
These headaches cause sudden stabbing pains that often are located in the temples and are very severe but brief.
Common headache treatments
"There's no one-size-fits-all treatment for headaches," Dr. Moore says. "It may take some experimenting to find out what works for you."
Options include:
Over-the-counter pain relievers
Aspirin, ibuprofen and acetaminophen may all do the trick for tension headaches and migraines, but they won't relieve cluster headaches.
Prescription medications
A number of prescription medications can be used to treat migraines and the nausea that often accompanies them. There are also medications that can be taken to prevent migraines. Some of these medications also work on cluster headaches or icepick headaches.
Oxygen
Breathing in pure oxygen effectively treats cluster headaches for most people.
Vagus nerve stimulation
Electrical stimulation to the vagus nerve in your neck may help relieve cluster headaches.
Headache prevention
"A number of lifestyle factors can impact the likelihood of developing tension headaches and migraines," Dr. Moore says. "Managing those factors can not only help you avoid pain, but also have other health benefits, as well."
Dr. Moore makes these headache prevention recommendations:
Exercise.
Aerobic exercise releases tension and stress, which can contribute to developing headaches.
Get enough sleep.
Aim for enough sleep — seven to nine hours for adults — and try to go to bed and get up at the same time each day.
Limit caffeine and alcohol.
Too much caffeine and alcohol can cause headaches.
Know your food triggers.
Certain foods, such as chocolate, aged cheese, processed meats and foods containing gluten, may trigger migraines.
Stress less.
Find healthy ways to manage the stress in your life. That may mean scheduling time with friends, taking a yoga class or learning to say no.
"Chronic headaches can be extremely distressing," Dr. Moore says. "It's exhausting to live with pain. Don't be afraid to talk to your health care provider about treatment options. There are many treatment options available."
Read more about headaches: