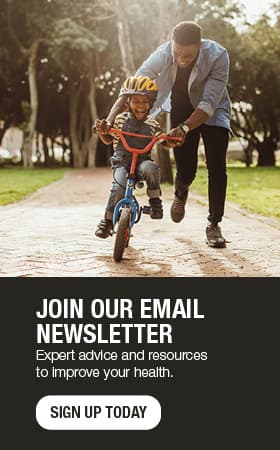 High blood pressure: The silent killer
By Mayo Clinic Health System staff
One of the most dangerous health conditions is also one of the sneakiest.
High blood pressure is often called the "silent killer" because most people who have it don't have any symptoms. And that silence can be deadly. High blood pressure can lead to a host of serious problems, including heart attack, heart failure and stroke. That's why it's important to know your risk factors for developing high blood pressure — and to take steps to lower your risks.
Risks you can change
Big risk factors are being overweight, too much salt (sodium) in your diet, smoking and not getting enough exercise. Being overweight strains your heart. Exercise strengthens it.
Aim for 150 minutes of physical activity a week. Exercise will help you build your heart muscle and may also help you lose weight.
Too much salt can cause you to retain fluid, which increases blood pressure. Salt hides in all processed foods, like hot dogs, lunch meats, pickles and all canned foods. It's better to eat fresh or frozen vegetables. Salt also is in all cheese. Download an infographic about salt.
If you smoke or use chewing tobacco, it's time to quit.
Tobacco temporarily raises blood pressure in the short term, and can damage artery walls over time. Breaking the habit is one of the best things you can do for your health.
Several effective medications are available to help people quit the habit.
Stress may also play a role in developing the condition, either by temporarily increasing your blood pressure or by leading you toward unhealthy coping strategies, such as smoking or drinking too much alcohol.
And those you can't
Unless you can turn back time, your risk of developing blood pressure is going up. That's because risk increases as you age.
High blood pressure tends to run in families, so if one of your parents or a sibling has the condition you're more likely to as well. And your race may also increase your risk. High blood pressure is more common — and often more severe — among African-Americans.
Why it matters
High blood pressure can cause significant damage to your heart, eyes, kidneys, brain and blood vessels. Left untreated, this can lead to kidney failure or vision loss.
Your ability to think, remember and learn can also be affected by high blood pressure. There's even a type of dementia — vascular dementia — caused by high blood pressure.
What you can do
Know your numbers — and act on them.
People 40 and older, or anyone younger with risk factors, should have their blood pressure checked by a provider once a year. Younger people without risk factors should be checked at least every two years.
If your blood pressure is high, talk to your provider your provider will recommend lifestyle changes or medication to lower it.
Blood pressure should be 120/80 or lower. If it's consistently higher, lifestyle changes or medication, or a combination of the two, can usually bring it down to a healthy level.
Learn more about blood pressure: