We are experiencing high call volumes:
Use your account on the Mayo Clinic app or patient portal to check symptoms, get care recommendations and make an appointment.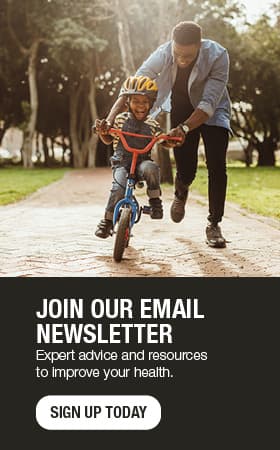 Cardiac patient living well with congestive heart failure monitoring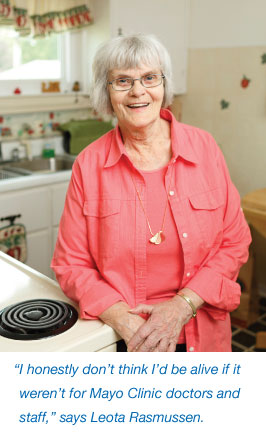 Every morning, people get up early, drink their coffee and get ready for the day. But as they review their to-do list and head for the door, they seldom plan on having two heart attacks.
A day gone wrong
Leota Rasmussen, an Eau Claire resident, gets up at 5 a.m. each morning and puts in a load of laundry.
But April 20, 2010, was a vastly different morning.
After getting clothes out of the dryer, Rasmussen began experiencing sharp pains in her stomach as she walked back up the stairs. Vomiting and diarrhea immediately followed, and she thought it was the H1N1 influenza virus.
"I never in my life thought it was a heart attack," she says. "I broke out in a terrible sweat. I thought I should go to the hospital -- but then I thought, 'No, I won't.'" But after the symptoms continued, she called 911.
On the ambulance ride to Mayo Clinic Health System, it was apparent that Rasmussen was having a heart attack. She had a second one when she arrived at the hospital.
An emergency angiogram was performed when she was admitted. An angiogram is a procedure that uses X-ray imaging to see the heart's blood vessels. "Mrs. Rasmussen at that time had severe coronary disease that required bypass surgery," says Steven Schreiter, M.D., a cardiologist at Mayo Clinic Health System in Eau Claire.
By the time Rasmussen woke up, she had undergone quadruple bypass surgery.
Coordinated recovery
The Heart Failure Clinic, part of Mayo Clinic Health System in Eau Claire's Cardiac Center, is for patients with heart failure, a condition in which the heart is unable to provide adequate circulation of blood to bodily tissues. "The point of the clinic is to prevent occurrence of heart failure through proper hydration, monitoring diet, weight and salt intake, combined with medications," says Chris Roberts, M.D., internal medicine physician and Rasmussen's primary care provider. "It keeps patients breathing better and living longer."
"The Heart Failure Clinic is a specialty clinic with a multidisciplinary approach," says Dr. Schreiter. "Cardiologists and clinic nurses fine-tune patients' medical regimens with optimal therapy to prevent worsening of congestive heart failure and prevent recurrent hospitalization."
Dr. Schreiter says the clinic can do a variety of things on an outpatient level, such as continuing care that is less expensive and more convenient for patients and the health system, while improving prognoses and long-term survival.
"Clinic patients require evaluation every few weeks," Dr. Schreiter says. "It's inconvenient for patients to come back every week or two to be checked — so this program checks them by phone."
After her heart attacks, Rasmussen would receive regular calls from nurses who monitored her blood pressure, weight and fluid levels, which provides effective care without patients having to come to the clinic constantly.
Making things easier
Rasmussen receives care from the clinic, but in a streamlined way. The hospital's Cardiac Rehabilitation Center is right down the hall, where Rasmussen goes three mornings per week for heart monitoring. The clinic and cardiac rehab program work in parallel to coordinate Rasmussen's care.
Keeping on course
"After recovery, Mrs. Rasmussen's heart function was moderately reduced, and she has been treated with optimal medical therapy through the Heart Failure Clinic," says Dr. Schreiter. "She has done well for the last four years, and a lot of that is related to the proactive response from the Heart Failure Clinic."
"I honestly don't think I'd be alive if it weren't for Mayo Clinic doctors and staff," says Rasmussen. "I feel like I'm really a person, not a number. It's so nice because I know if I have any problem I know who I can call."
---
For the safety of our patients, staff and visitors, Mayo Clinic has strict masking policies in place. Anyone shown without a mask was either recorded prior to COVID-19 or recorded in a non-patient care area where social distancing and other safety protocols were followed.
Topics in this Post